The National Franchised Dealers Association (NFDA) has said that it is vital that Government and car manufacturers "evaluate a support package that stimulates the market" following April's 97.3% sales slump.
As the Society of Motor Manufacturers and Traders (SMMT) laid bare the impact on new car sales of the COVID-19 coronavirus pandemic in its car sales data from last month's market lockdown, the franchised car retail body called for support to help rejuvenate the retail sector when conditions allow.
NFDA director, Sue Robinson, said: "NFDA has been talking to the relevant Government departments and manufacturers to ensure work can commence safely for the benefit of dealerships' staff and customers.
"Over the coming months, it will be vital to evaluate a support package that stimulates the market and ensures the long-term stability of a sector which is key to the UK economy and provides employment to thousands of people."
AM wants has compiled a quick, two-minjute survey to gather information about the levels of support received from Government and car retailers' manufacturer partners as they battle to mitigate the impact of the COVID-19 coronavirus lockdown. Click here to take part.
Marshall Motor Holdings chief executive, Daksh Gupta, echoed the NFDA's sentiment. He said: "Hopefully it provides government more data that the sector needs further stimulus to support the 823,000 jobs in it."
The SMMT reported that 4,321 new cars were registered during April - the month's lowest total since 1946 - as deliveries continued to frontline workers and organisations amid the closure of showrooms across the UK in-line with Government's March 23 order to close all non-essential retail operations.
Car retailers were informed, via guidance initially issued by the NFDA and subsequently The Department for Business, Energy & Industrial Strategy (BEIS), that car sales can be completed away from their showroom facilities, via safe delivery methods.
Last month's sales postponement leaves the UK new car market 43.4% down year-to-date and mirrors April declines seen in other European markets, with France down 88.8% and the Italian market falling 97.5%.
The SMMT's new car market forecast for 2020 has now been downgraded to just 1.68 million registrations in 2020, as a result of the April slump, putting the sector on course to record its worst performance since 1992's 1.59 million units.
Distorted market puts EVs top
Fleet orders represented by far the bulk of the UK market's sales last month, taking 71.5% market share, equivalent to 3,090 units, while private buyers registered just 871 cars – a year-on-year fall of 98.7%, the SMMT said.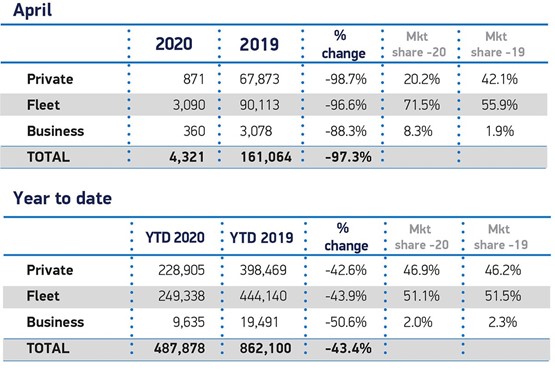 Distortion across the market was seen in all segments and fuel types, with the numbers of new petrol and diesel cars joining UK roads down 98.5% and 97.6% respectively, as plug-in hybrid vehicles (PHEVs) declined 95.1% and hybrids (HEVs) 99.3%.
Electric vehicles (EV) saw a decrease of just 9.7%, however, as the Tesla Model 3 became the UK's biggest selling car for the month with 658 sales and the Jaguar I-Pace came in second with 367 deliveries, by virtue of the fulfilment of some pre-ordered deliveries.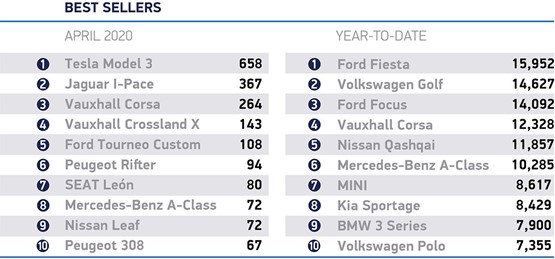 The SMMT's revised 2020 market predictions now include a doubling of the EV market this year, with the anticipated sale of 77,300 units as new model introductions bolster the market.
Automotive sector support healthy economy
SMMT Chief Executive, Mike Hawes, said: "With the UK's showrooms closed for the whole of April, the market's worst performance in living memory is hardly surprising.
"These figures, however, still make for exceptionally grim reading, not least for the hundreds of thousands of people whose livelihoods depend on the sector.
"A strong new car market supports a healthy economy and as Britain starts to plan for recovery, we need car retail to be in the vanguard.
"Safely restarting this most critical sector and revitalising what will, inevitably, be subdued demand will be key to unlocking manufacturing and accelerating the UK's economic regeneration."
Last week AM reported on Jato Dynamics data which predicted a U-shaped recovery in Europe's new car market – far slower than that currently being seen in China.
Calls for a CO2 emissions-reducing car scrappage scheme were voiced in a report published by automotive sector research and consultancy business, the ICDP, recently.
Its 'clean cars for a post-COVID recovery' report claimed that such an initiative was needed in order to avoid a perfect storm of stalled sales and soaring fines from stringent new EU regulations driving carmakers 'to the edge'.
The need for an OEM-backed credit-based scheme, which would close the gap between potential fines and the vast revenues lost during the COVID-19 coronavirus lockdown, it said, stating: "Without intervention in the market a recovery is likely to be protracted and this will lead to business failures amongst dealers, and potentially with manufacturers."