The European new car markets should expect a U-shaped recovery after being hit hard by the COVID-19 coronavirus outbreak in March, according to global sales data compiled by Jato Dynamics.
As the Chinese market appears to be working towards a V-shaped recovery, with Jato's Chinese analyst suggesting that a full-scale "OEM resurgence" could be on the cards as consumers accustomed to social distancing measures shy away from public transport, Europe saw its March car sales decline by 52%.
The region-wide figure outstrips the 44.4% decline experienced by the UK last month and the global sales slump caused by the virus at this stage - the worldwide March decline standing at 39%.

The decline represents the worst hit to Europe's March new car sales since 1980, with a total of 848,800 new cars sold across Europe last month.
Jato suggested that Europe's recovery from the pandemic could be more protracted than that seen in China, stating that "unlike China, the recovery for Europe is "likely to be U-shaped rather than V-shaped".
Varied impact
Registrations Europe's 27 markets fell with varying severity during March, with volumes fluctuating only marginally in Finland and Lithuania, according to Jato's data.
AM is urging retailers to share their experience of trading during the COVID-19 coronavirus outbreak via its two-minute, quick-fire 'COVID-19 car retail recovery survey'. Click here to take part.
In Finland's case, isolation was advised by the government but was not mandatory, with consumers in Lithuania still able to purchase new cars remotely, with delivery taking between three and seven working days.
Swedish car registrations fell by 9%, meanwhile, the third smallest decline, due to the population not being forced to stay in their homes.
In contrast, markets were significantly hit in Italy, France, Spain, Austria, Ireland, Slovenia, Greece and Portugal, where the combined volume fell from 634,600 units in March 2019 to 161,800 units last month.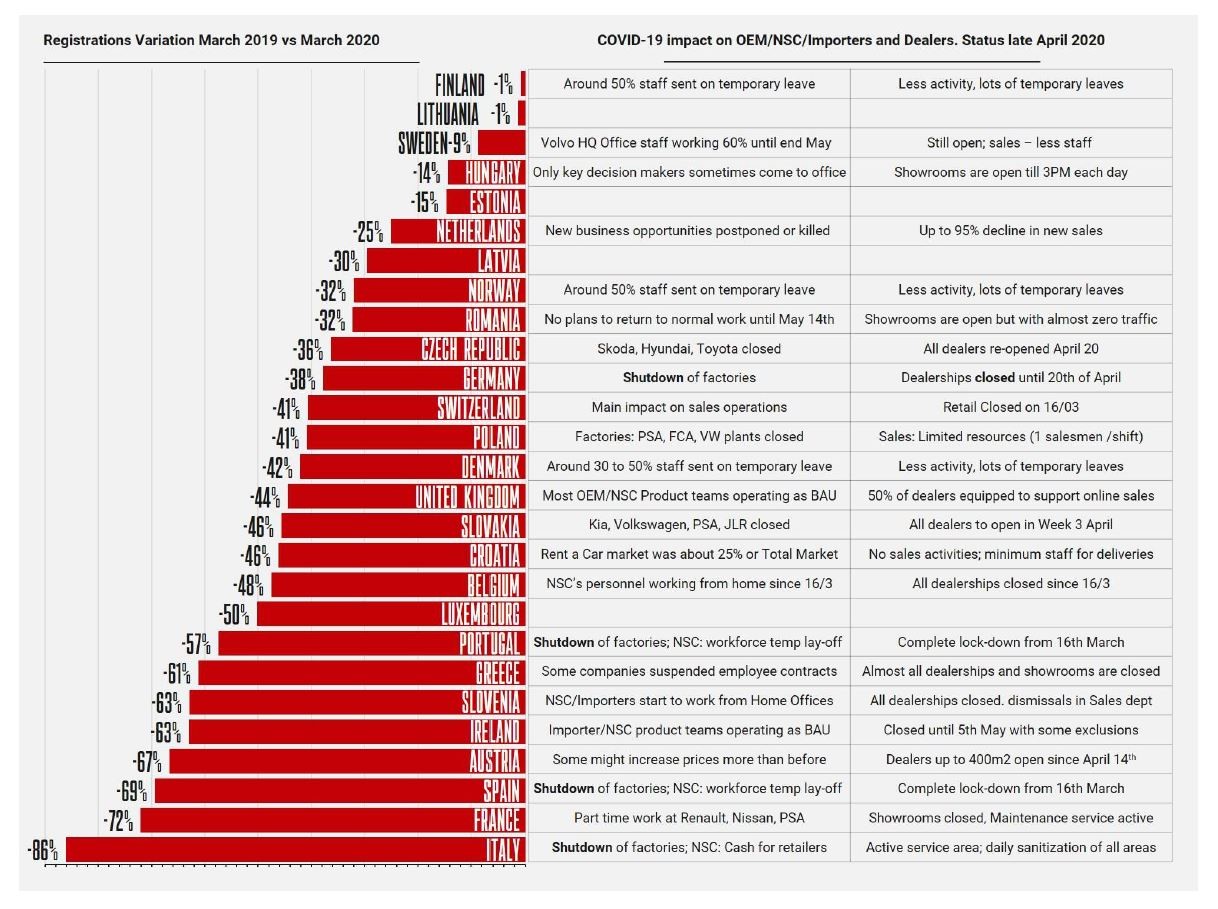 "This downward trend is not simply due to the restrictions of free movement. The industry is being impacted largely by the uncertainty for the future, and this issue started to arise even before the pandemic took hold" said Felipe Munoz, Jato's global analyst.
He added: "We have to remember that the industry was already operating in a challenging environment, especially towards the end of last year.
"The trade wars, lower economic growth and tougher emissions regulations came long before the COVID-19 crisis.
"And unlike previous recessions, we're not just dealing with people's fears or purchase delays. This time we have to consider that consumers are simply unable to leave their homes."
The ICDP said earlier this week that a CO2 emissions-reducing car scrappage scheme was needed in order to avoid a perfect storm of stalled sales and soaring fines from stringent new EU regulations driving carmakers 'to the edge'.
The need for an OEM-backed credit-based scheme, which would close the gap between potential fines and the vast revenues lost during the COVID-19 coronavirus lockdown, was spelled out in its 'clean cars for a post-COVID recovery' report.
The report said: "Without intervention in the market a recovery is likely to be protracted and this will lead to business failures amongst dealers, and potentially with manufacturers."
EV growth despite the crisis
Car manufacturer's determination to mitigate the effects of new EU vehicle emission regulation on their profits – despite the ongoing pandemic – were laid bare by the number of electrified vehicles registered across Europe in March.
Despite the COVID-19 sales slump, electrified vehicles still increased their registrations across Europe by 15% to 147,500 units in March, posting a new record market share of 17.4% – 10.1ppts higher than seen in March 2019.
The positive results came as a result of more electrified vehicles from Mercedes (up 44%), Volkswagen (up 240%), BMW (up 15%), Hyundai (up 25%), Volvo (up 79%), and Suzuki.
Only pure electric vehicles (EV) and plug-in hybrids (PHEV) drove the growth, as hybrids posted a decline of 11%.
The Volkswagen e-Golf, Audi E-Tron, and Volkswagen e-Up, posted impressive results for BEVs in March, with new arrivals like the Mini electric, Peugeot e-208, MG ZS and others accounting for 17% of all EV registrations.
China's car retail resurgence
Jato reported that, for China, the automotive landscape had improved since February, when sales shrank by 79% year-on-year – with "significant improvements" in both production and sales.
According to the statistic released by the China Association of Automobile Manufacturers, the production resumed to 75% of the 2019 yearly average.
The insurance volume of passenger vehicles reached 1.08m units in China during March, meanwhile, which represented a growth of 427%.
Bo Yu, country manager for Greater China at Jato, said: "The insurance volumes indicate an increase in real consumption and is not impacted by the high dealer inventory."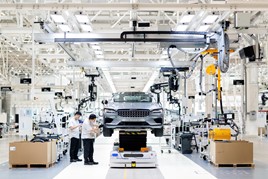 China's March car sales decline narrowed to just 30% from a year earlier, compared to the decline of 78% seen in February year-on-year, and further performance improvement is expected in April with the continuous decline of the epidemic as well as a series of central and local government policies shoring up the car market.
Yu said: "We are positive about the state of the automotive industry in China.
"Sales figures are on the rise and businesses are returning to normal as remote working is being lifted.
"COVID-19 will have a lasting impact on the working world and how people across the globe choose to travel. As social distancing continues and consumers start to place greater emphasis on personal space, private car sales are likely to benefit
"We continue to closely monitor the environment but early indications from the Chinese market could signal a potential resurgence for OEMs as we move into the post-COVID-19 era."