The Office for National Statistics (ONS) has highlighted the risks posed by COVID-19 to professional drivers charged with keeping the UK moving during coronavirus lockdown.
As the car retail sector prepares to ramp-up sales operations ahead of a possible re-opening of showrooms on June 1, many are relying on logistics operators and dealership drivers to move used car stock and deliver new and used car sales to customers' home addresses.
But the need for stringent vehicle cleansing and personal protection equipment (PPE) measures for those who remain on the road during the pandemic was made clear in recently-published ONS data.
Mortality rates among professional drivers are among the highest of any profession, it said.
Following health and social care workers, professional drivers were the most heavily impacted working group, followed by those in sales and retail.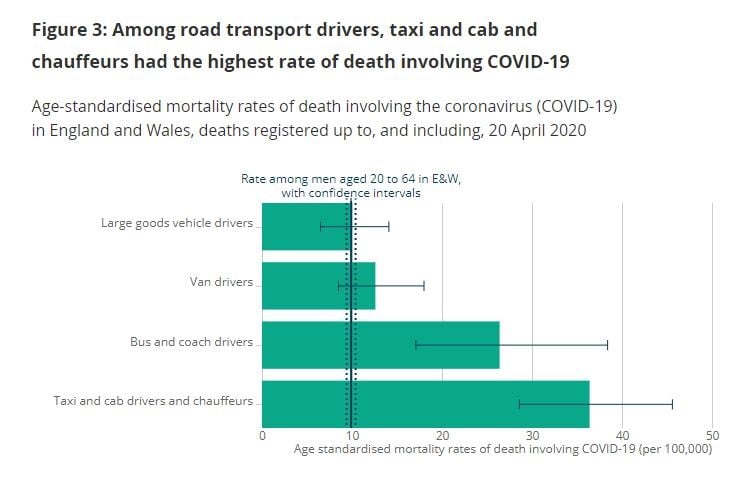 The ONS said: "Among men, a number of other specific occupations were found to have raised rates of death involving COVID-19, including: taxi drivers and chauffeurs (36.4 deaths per 100,000); bus and coach drivers (26.4 deaths per 100,000); chefs (35.9 deaths per 100,000); and sales and retail assistants (19.8 deaths per 100,000)."
It added: "Those who worked in process, plant and machine operative occupations had one of the highest number of deaths overall (242 deaths).
"This group includes occupations whose main tasks are to operate and monitor industrial equipment; assemble products; and drive and assist in the operation of transport vehicles and other machines.
"In this group, at a more granular level, road transport drivers were found to account for the largest proportion of deaths (69.0% of the major group deaths, or 18.5 deaths per 100,000 males)."
The ONS was commenting on deaths involving COVID-19 registered between March 9 and April 20.
Across the car retail sector, opinion varies on the approach taken to vehicle cleansing as businesses start to tackle the issue of part exchanges and test drives, in particular.
Vertu Motors chief executive, Robert Forrester, revealed that his dealership operations are leaving part-exchange cars to stand for 24 hours before allowing staff to enter them to complete appraisal and valuation inspections.
He said that the retail group's valeters had remained away from the business as car vacuuming and washing processes had been removed from the aftersales process during lockdown.
He said: "The focus is very much on cleansing the car and technicians are doing that as part of their roles. The cosmetic side of the aftersales process has been removed and I think our customers understand why that is."
Forrester said that the industry's outlay on personal protective equipment (PPE) would be "not insubstantial", adding that it would be a "major cost" to the sector as showroom re-opening commences.