We are already seeing production cutbacks as the pandemic brings car manufacturers' underlying problems to the surface. The good news for the UK is that Nissan Sunderland dodged the bullet that proved fatal to Nissan Barcelona, but there are plenty of other closures planned across the industry.
As well as the obvious production cutbacks, however, there will be big changes in R&D expenditure that will have long-term impacts on the industry. It will not be a simple case of cancelling new models, because the manufacturers understand that this is a product-driven industry and cutting back on new product is even more expensive than investing in it.
As an example, they only have to look at Honda, which cut all R&D spending in the wake of the 2008 financial crisis. Honda's European sales have never recovered from the resulting hiatus in new products, a fact which contributed to the eventual closure of Swindon.
Instead, car companies are prioritising what they spend money on. The fashionable acronym for automotive R&D in recent years has been ACES (Autonomous, Connected, Electrified, Shared), but that is starting to look out-of-date. Instead of four priorities of similar weight, a more accurate acronym today would be CEO – Connected, Electrified, Other.
Car companies see connectivity as inevitable and electrification as unavoidable, but everything else is negotiable.
Connectivity is inevitable because cars need to stay relevant to the social media generation, to whom electronic isolation is unthinkable. In fact, the importance of infotainment has long been underestimated in the car industry.
Back in the 1980s, the then marketing director of Jaguar talked about how hard it was to convince his engineers that the last degree of ride comfort would be noticed by 1% of the buyers 1% of the time, but buyers would notice poor audio quality every time they got in the car. As a young petrolhead, I was shocked that a friend chose her first company car on the basis that it had a CD player as standard – but she was more representative of the public than I was.
Today, people expect seamless smartphone connectivity as a right, as BMW recently discovered to its cost. BMW had tried to charge £85 per year for Apple CarPlay integration following a free first year. After incredulous customers asked if BMW really proposed to charge them for using their phones, BMW had to cancel the charge in December 2019. The fact that Apple CarPlay was an added-value service was irrelevant – people saw it as integral to their car as Bluetooth. Car companies fear that if buyers have to choose between connectivity and the car, it is the car that will lose out. Connectivity also holds the key to a lot of the safety systems that are intended to reduce accidents: for example, if a connected car hits a patch of ice, it will automatically warn following cars.
Electrification is the most important issue of all. The EU target of 95g/km of CO2 that starts coming into force this year mean that car companies have to electrify as quickly as possible. Companies like PSA or even Audi simply can't ignore their home region with its market of 15 million vehicles (in a good year).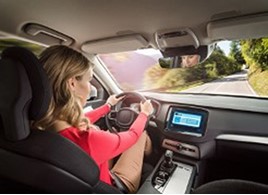 Even if they tried to look outside Europe, it would not help. China, the world's biggest car market, is electrifying more quickly than Europe, which leaves only the USA as the bastion of internal combustion engines (at least with the White House's present incumbent).
Peugeot is hardly going to keep its factories busy making petrol 208s for US consumers.
And what of the two areas in "Others". One of the stranger side effects of the current crisis is that almost every Californian start-up that raised money to develop Shared Mobility services has performed a screeching U-turn and removed the word "Shared" from its messaging.
Yesterday's Shared Mobility vehicle is today's Last Mile Delivery Vehicle or Personal Mobility Shuttle. Shared mobility has become metaphorically toxic, because people think it might be literally toxic.
This concern was actually rising before Cononavirus appeared, as companies struggled with the issue of keeping the vehicles clean. No-one would use a hotel room until it had been thoroughly cleaned after its last occupant, and the same issue was starting to arise with tests of shared mobility vehicles.
All the literature and websites showed happy families getting into pristine vehicles, and the logistics of keeping them pristine after every five-minute journey was becoming a major headache.
As if health and cleanliness were not big enough issues, the concept of Shared Mobility is also under threat from the last of the four areas, Autonomy.
2020 was meant to be the year when autonomous vehicles would hit the road in serious numbers –in 2017 one analyst talked of a "conservative estimate" of 10 million autonomous cars by now – about 10 million more than are actually in circulation.
In 2019, Audi announced that the first so-called Level 3 autonomous system – the Audi A8 Traffic Jam Pilot – would be available from 2021. Level 3 is a long way from full autonomy, being the facility for the driver to stop paying attention on a motorway below 37 mph.
Last month, Audi announced it had indefinitely postponed even Level 3 autonomy, as there are too many regulatory and legal issues around giving permission for a driver's attention to wander.
With no immediate prospect of autonomous vehicles for anything but the simplest short-distance journey, the whole model of Shared Mobility comes into question. A shared vehicle with a driver is just a minibus.
The current crisis will not radically change the type of car we will be driving in five or ten years' time, but it will consolidate trends that were already starting to happen. Many of us will be driving highly connected, electrified vehicles which can access our emails very quickly.
However, they will still be our own individual cars, and we won't be able to read the emails while driving at 70 mph.
By David Francis