The Society of Motor Manufacturers and Traders (SMMT) has expressed its fears of "disturbing times" ahead after UK car manufacturing declined 44.6% by volume in August.
Chief executive, Mike Hawes, said that a second wave of the COVID-19 coronavirus with tighter social and business restrictions look set to make the industry's attempts to restart even more challenging with the prospect of Britain's exit from the European Union also now just 100 days away.
The SMMT reported today (September 24) that ) that just 51,039 cars had rolled off UK production lines last month as efforts to ramp-up productivity stalled amid the COVID-19 crisis, with weak demand in key overseas markets compounded by a significant fall in output for UK buyers.
Year-to-date, production is now down by 40.2% with a loss of 348,821 units worth more than £9.5bn to UK carmakers.

SMMT projections suggest that UK car manufacturers are now on-track to produce just below 885,000 cars this year – down 34% on 2019.
While Hawes welcomed Chancellor Rishi Sunak's announcement of further support for UK businesses in the House of Commons yesterday, he said: "These are increasingly disturbing times for UK car makers and suppliers with the coronavirus crisis weighing heavily on the sector.
"Companies are bracing for a second wave with tighter social and business restrictions making the industry's attempts to restart even more challenging."
Hawes added: "The UK industry is fundamentally strong and agile, and the measures announced yesterday by the Chancellor are welcome and essential, although we await more details of how they will work for all businesses and crucially large manufacturers.
"Companies need to retain skilled jobs and maintain cashflow and we may need more support to boost business and consumer confidence later this year.
"Moreover, with fewer than 100 days until the Brexit transition period ends, we need urgent agreement of an ambitious free trade deal with our largest market to avoid the second shock of crippling tariffs."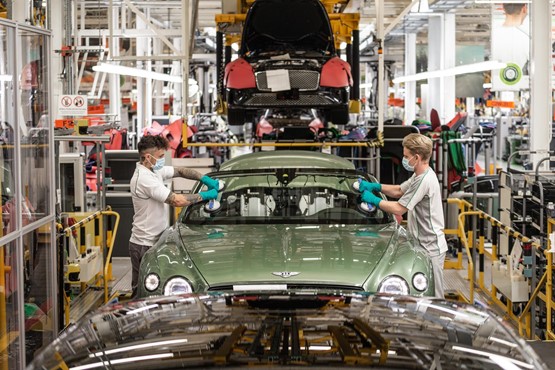 The SMMT highlighted in its August manufacturing data that the overall performance reflected an unusually strong August in 2019, when some plants worked through the customary summer maintenance shutdown as part of efforts to mitigate against the then possible 'no deal' Brexit on 31 March.
Production for UK buyers declined by 58.3% to 7,795 units, while exports declined 41.1%, with 43,244 vehicles produced for overseas markets.
The SMMT said that a 'no deal' Brexit scenario would be disastrous, with car volumes potentially falling below 750,000 by 2025.
Calculations released when the SMMT came together as part of 23 automotive manufacturing bodies urging the resolution of a free trade deal between the UK and the EU last week revealed that 'no deal' would cost the pan-European automotive industry some £100bn in lost trade over the next five years.
Sigrid de Vries, the secretary general of the European Association of Automotive Suppliers (CLEPA), said: "A 'no deal' Brexit would disrupt the integrated automotive supply chain and hit industry at a critical moment.
"The impact will be felt far beyond the bilateral trade streams alone, translating into a loss of jobs and investment capacity."