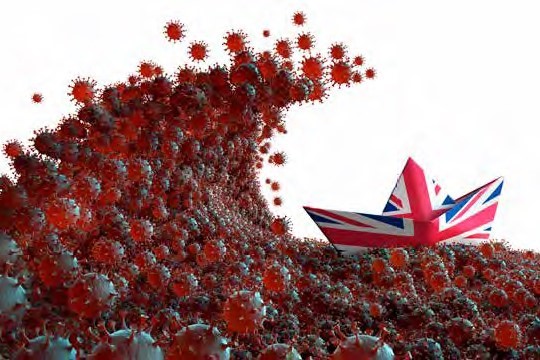 Dealers shared fears that the 'Lockdown 2' closure of car showrooms in England would deliver a second crushing blow to UK car sales when they gave responses
to an AM survey aiming to gauge the sector's mood.
While some sector analysts suggested retailers were "bullish" about their prospects of maintaining business levels under the more stringent measures, almost
half (49.6%) told us that they expected to deliver no more than 25% of their usual sales volumes in the period which ended on December 2.
Almost a third (32.3%) suggested they might be able to sell 26% to 50% of their usual new and used car volume, meanwhile, as just 13.4% said sales would be
51% to 75%.
Just 4.2% expected to deliver between three-quarters and 100% of sales.
AM heard from representatives of more than 120 car retail businesses in response to its survey – conducted online between November 5 and November 10 – and
the feedback laid bare the blow to morale dealt by Lockdown 2.
As retailers in Wales emerged from their 17-day 'firebreak' many said the measures in England would prove the difference between profit and loss in 2020.
Prior to Prime Minister Boris Johnson's October 31 announcement of Lockdown 2, 75.6% of respondents said they had expected their car retail business to
deliver a profit for the year, having made a strong recovery during Q3.
However, when asked whether Lockdown 2 would prevent their business from delivering a profit in 2020, more than half (54.3%) respondents replied 'yes'.
Vertu Motors chief executive, Robert Forrester, was vocal about the positive steps taken by his AM100 group to adapt and drive sales online during the first COVID-19 lockdown between March 23 and June.
But, speaking to AM as survey responses were being gathered, he was unable to hide his frustration at further showroom closures. "We expect sales to diminish, mainly as a result of the fact that we cannot deliver test drives. Aftersales will remain at 100%, though, and remains strong," he said.
Forrester delivered a damning indictment of Government's apparent misuse of COVID-19 death toll projections for mid-December as Johnson announced the second
lockdown, which were later revised from around 1,500 a day to around 1,000.
He said that the second lockdown in England implied that Government could "get away with using 'dodgy measures'.
This article first appeared in the December Issue of AM magazine, available free here.
Car showrooms should not have been closed as part of Lockdown 2 restrictions on "non-essential retail", according to 67.7% of AM survey respondents, but some
did cite a need to avoid casualties and regain control of the pandemic, with 32.3% suggesting Government's decision was the right one.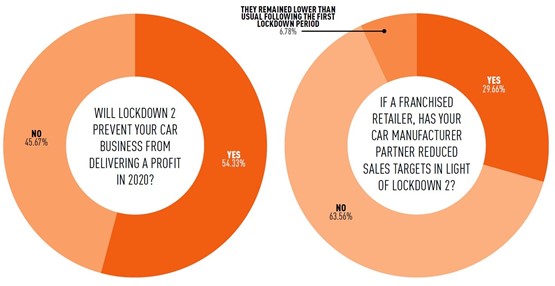 Almost two-thirds (69.3%) had worried the more stringent COVID-19 measures would end, as scheduled, on December 2.
The Welsh Assembly did stick to its plan of bringing an end to its 'firebreak' on November 9.
The National Franchised Dealers Association (NFDA) wrote directly to Prime Minister Johnson to contest the enforced closure of showrooms.
In the letter, chief executive Sue Robinson urged Government to show "the same good judgment" as the German Government, which had decided to keep vehicle
dealerships open during its nation's lockdown.
"There is no evidence that keeping them open would increase transmission of the virus," said Robinson. "Shutting down vehicle showrooms will not only damage
the livelihoods of the 590,000 people employed in vehicle retail; it will reduce car sales to the point where the car factories will have to stop production, impacting
the 168,000 employed in vehicle manufacturing."
Robinson added: "You may not yet have been briefed about how vehicle showrooms have been operating since they reopened.
"They were the first industry sector to reopen on June 1, operating to COVID-secure guidelines formulated by the industry and BEIS (Department for Business,
Energy & Industrial Strategy) officials. Our dealerships have not caused COVID-19 to spread over the past five months – and nor are they causing it to spread today."
Echoing Robinson's sentiments, one respondent to the AM survey said: "This lockdown has been poorly thought out and managed by the Government. (Car) retailers have demonstrated since June that they can operate safely, and I would argue we are a safer retail space than a garden centre or a food shop.
"The VAT generated from car sales alone must be an incentive for the Government to keep us open."
Worryingly, franchised car retail respondents to AM's COVID-19 Lockdown in England Survey gave a mixed appraisal of the support being offered to their business
by their manufacturer partners.
During the first lockdown, in May this year, another AM survey revealed that 42.2% of franchised car retailers didn't feel that manufacturers were doing enough
to support their businesses.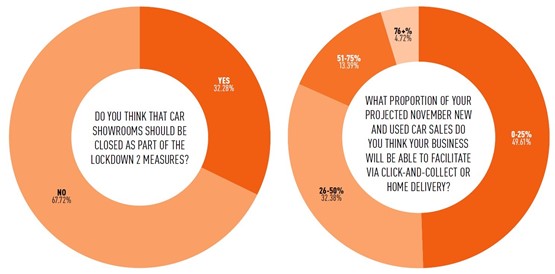 The consistency of response seems to have been no better this time around, with just 11.2% describing their OEMs' support as 'Excellent', while 37.1% said it
was 'Good' and 31% 'Average'.
A 'Poor' description was attributed by more than a fifth (20.7%), however.
Asked whether their OEM had reduced their sales targets in light of the latest lockdown, the vast majority, 63.6%, said they had not. On the flip side, 29.7% had seen targets reduced once again, while 6.8% said targets had remained "lower than normal" following the first lockdown.
One respondent to the AM survey said: "Manufacturers are full of people working from home dreaming up scenarios of how customers will be impacted. They are not in the real world and need to consider what it's actually like on the ground and the stress they are putting our teams under.
"Their general attitude is poor and it's getting worse as the divide between manufacturer and dealer grows wider day-by-day."
One described their manufacturer partner as being "hopelessly out of touch with sales targets considering we are pretty much closed", adding that the network was "completely demotivated".
Many manufacturers declined the opportunity to share their support measures for franchisees when contacted by AM, but Dale Wyatt, director of automobile
at Suzuki GB – one of the first to respond to the lockdown in March with a package of support to dealers – was open again.
Wyatt said the brand had reinstated its measures from earlier in the year, which included: a 60-day extension to new cars coming to the end of their consignment
period; 28-day extended terms on parts orders; 30-day extended period on direct sales; aftersales levy deferred until Q3; Q1 bonus payment pulled forward; 100%
and 125% band removed, and all units paid at 150% of target achievement; 175% volume payment paid if earned.
In addition, Suzuki GB is handing a bonus of up to £10,000 to retailers who have taken steps to adapt to trading during the pandemic.
Wyatt said: "We wanted to reward those who had introduced things like live chat, click-to-buy or reserve a car in response to COVID, while giving a bit of an
incentive to others to adapt to ensure we're ready to perform in those areas on an ongoing basis. These are things that can cost money and we want to help where we can."
Wyatt said Suzuki GB had mapped three potential COVID-19 scenarios to determine its path forward.
The "most likely" projection forecasted that retailers will achieve around a third of their usual volume in November and December, then 75% in January before returning to full capacity by February or March.
Volvo Car UK also took swift action to support its franchisees. A spokesman told AM that the Swedish brand had "again acted swiftly to guarantee new and used car bonuses through lockdown", adding: "New car stock levels are positive, but we have taken measures to closely monitor ageing stock and, indeed, any stock due to go fully paid.
"All our workshops remain open with retailers offering sales remotely. We also have a good deliverable order bank, and our retailers are working hard to continue to safely deliver cars to our customers' homes or facilitate safe collection from their premises."
Volvo said that it would be staying in close contact with its retailer network and was "hugely grateful for their ongoing support".
Alison Jones, who is responsible for Peugeot, Citroën and DS Automobiles in her role as managing director for Groupe PSA UK, said: "We work extremely closely with our retailer network partners, no more so than during this year's business environment.
"We focus on our customers throughout the four nations of the United Kingdom, supporting our retailer partners in their individual needs on a case-by-case
basis relating to their respective business restrictions."
While Chancellor of the Exchequer Rishi Sunak announced an extension of the Coronavirus Job Retention Scheme (CJRS) to the end of March in a House of
Commons speech on November 5, car retailers indicated they were dissatisfied with Government support for the sector.
Of the responses, 38.9% described its support for car retail as 'Poor', while 31.8% said it was 'Average', 21.4% 'Good' and just 7.9% 'Excellent'.
Many retailers moved quickly to return staff to furlough in lockdown 2.
The vast majority, 90.6%, said they would have some staff to furlough, which once again sees employees receive 80% of their usual salary for hours not worked,
up to £2,500 a month, during Lockdown 2.
Forrester told AM that his group had embarked on a "furlough exercise" but had wound its sales teams back to levels last seen on May 15, rather than the
height of H1 lockdown.
Simon Beckett, the joint managing director at Rainworth Motor Group, the subject of this month's car retailer face-to-face feature (see page 18), has also rolled
out a limited furloughing exercise.
He said: "We are much more optimistic we can retain sales this time around and, obviously, continue to deliver aftersales, so our approach reflects that.
"Last time there were 82 (of 85) staff on furlough. This time it will be around four or five part-time staff and a dozen full-time."
In the week prior to AM going to press, Auto Trader, Car Gurus and eBay Motors Group axed their December classified advertising fees in response to Lockdown
2.
This will have been welcomed by retailers, 82.7% of whom told AM that they expected such measures to be taken to help retailers retain
profitability.