The UK's new car market has strengthened for the first time since August, the Society of Motor Manufacturers and Traders reports.
Registration data for March has just been released, showing an 11.5% uplift year-on-year to 283,964 units, with 29,280 more cars registered than in March 2020 when the UK's lockdown halted all sales before the final week of the plate-change campaign, causing a 44.4% drop in registrations.
Fleet sales drove the growth - the corporate and rental markets were 29% up with 151,360 registrations taking a 53% share of March's total market.
The Tesla Model 3 was the month's fourth biggest selling model.
Private sales were down 4.1% year-on-year however the 126,850 unit total is remarkable given that car showrooms have remained closed since January and all business has needed to be conducted remotely.
Mike Hawes, SMMT chief executive, said: "The past year has been the toughest in modern history and the automotive sector has, like many others, been hit hard.
"However, with showrooms opening in less than a week, there is optimism that consumer confidence – and hence the market – will return.
"We know we will see record breaking growth next month given April 2020 was a washout, but a strong and sustainable market is possible if customers are attracted to the choice and competitive offer the industry is able to provide within the safest of showroom environments."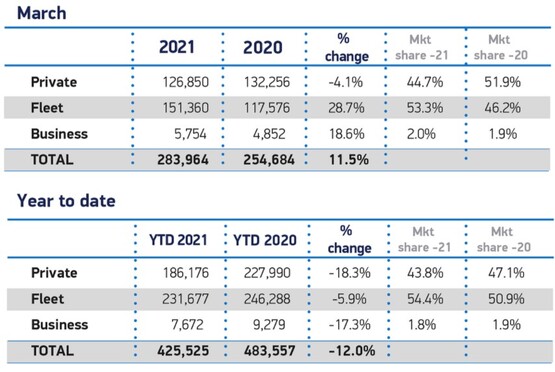 Hawes said new plug-in models are already helping drive a recovery but to convince more retail consumers to make the switch, they must be assured these new technologies will be convenient for their driving needs and that means, above all, that the charging infrastructure is there where they need it, and when they need it.
The shift to new technologies is continuing, however, with plug-in vehicle demand reaching its highest ever volume.
Battery electric vehicles (BEVs) and plug-in hybrid vehicles (PHEVs) took a combined market share of 13.9%, up from 7.3% last year as the number of models available to customers increased from 72 to 116.
Registrations of BEVs increased by 88.2% to 22,003 units, while PHEVs rose by 152.2% to 17,330. Hybrid electric vehicles (HEVs) also rose 42.0% to reach 21,599 registrations.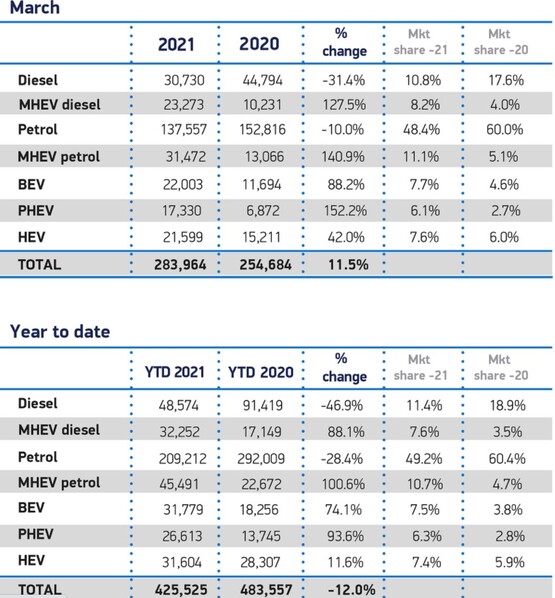 Only a month ago the SMMT downgraded its full year forecast for new car sales in 2021 to 1.83 million units.
Responding to the data, Ian Plummer, commercial director at Auto Trader said: "Given the environment, March's performance was solid and a positive reflection of how well retailers have embraced online retailing."
He said Auto Trader, the UK's largest car marketplace, achieved a record month for consumers viewing new cars and generating new car leads, and March overall audience figures for Auto Trader have set a new record, with visits and time on site up 27% and 22% respectively over 2019 levels.
Consumers viewing a new car on Auto Trader in March was up 13% month-on-month and up a staggering 49% year-on-year. New car leads broke a new record with a 29% increase month-on-month and a huge 184% increase year-on-year.
"These metrics coupled with high consumer confidence, higher savings and less debt suggest demand for cars will be high when forecourts re-open," Plummer said.
"Specifically, in March we've seen an increase in premium car sales. The last year has seen a growth in middle- and higher-income households and this is likely to have translated into premium brands getting a 'pandemic boost', as people who can afford to splurge may be treating themselves to higher end vehicles."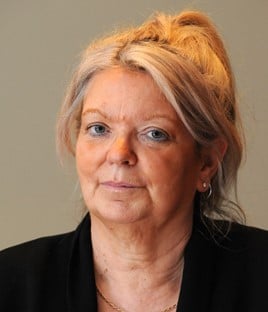 Sue Robinson, chief executive of the National Franchised Dealers Association (NFDA), said: "The 11.5% increase in new vehicle sales in March is a notable achievement for the industry and reflects the ability of franchised dealers to diversely engage with their customers.
"There is still significant pent-up demand and dealers are ready to deliver when lockdown eases on 12 April.
"Our members have ensured that their showrooms are COVID-secure by operating on an appointment basis, investment in PPE and instituting social distancing measures."