Car dealers should be braced for "a third, successive dismal new plate month" in March after COVID-19 'Lockdown 3' delivered another 35.5% decline to the UK's new car registrations in February.
That was the exasperated message from Society of Motor Manufacturers and Traders (SMMT) chief executive, Mike Hawes, as he once again called for showrooms to be allowed to reopen "as soon as possible" to allow the automotive sector to begin to recover the £23 billion loss from the past year.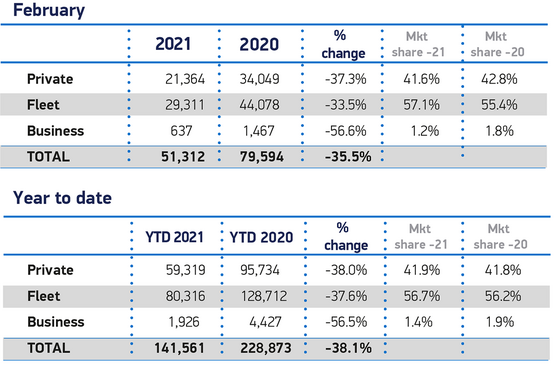 New car registrations totalled 51,312 last month, down 28,282 on 2020 and the sector's lowest February registrations total since 1959, the SMMT said.
The result has further heightened concerns about the impact of another COVID-impacted number plate change month for retailers following Prime Minister Boris Johnson's announcement that retail reopenings will not happen until April 12 at the earliest.
Hawes said: "February is traditionally a small month for car registrations and with showrooms closed for the duration, the decline is deeply disappointing but expected.
"More concerning, however, is that these closures have stifled dealers' preparations for March with the expectation that this will now be a third, successive dismal 'new plate month'.
"Although we have a pathway out of restrictions with rapid vaccine rollout, and proven experience in operating click and collect, it is essential that showrooms reopen as soon as possible so the industry can start to build back better, and recover the £23bn loss from the past year."
While the SMMT acknowledged that car retailers' shift to online orders and click and collect had provided "a lifeline" for the sector, it has once again revised its new car market forecast to 1.83 million registrations in 2021, down from the 1.89m predicted in January.
Most of these losses are expected to occur in March, it said.
SMMT data showed that both private and fleet sector demand slumped year-on-year last month, by 37.3% and 33.5% respectively.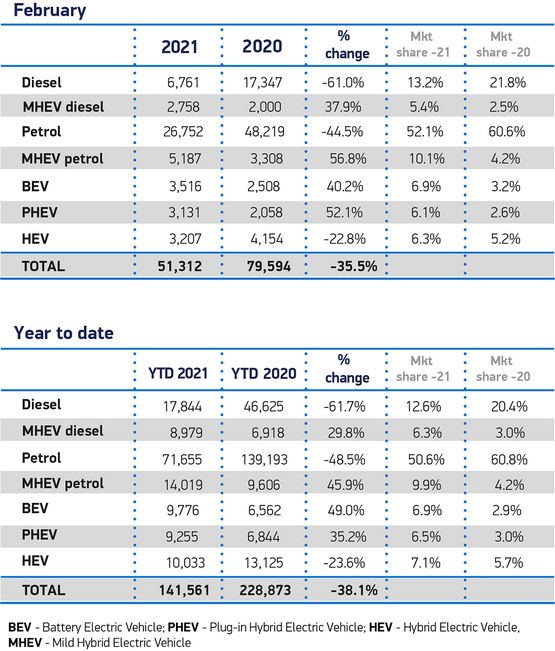 Plug-in vehicles continued to enjoy growth, with electric vehicles (EVs) and PHEVs taking a combined 13% market share, up from 5.7% a year earlier.
EV uptake increased by 40.2% to 3,516, and PHEVs by 52.1% to 3,131.
However, the SMMT said that increasing uptake of these new technologies to the levels required by 2030 remains "a mammoth task", claiming that yesterday's Budget proving a missed opportunity given the lack of measures to support the market overall and notably the transition away from pure petrol and diesel cars and vans.
Following the PM's announcement about the roadmap out of lockdown last week Cambria Automobiles chief executive, Mark Lavery, and Mazda UK managing director, Jeremy Thomson, also suggested that test drive restrictions and showroom closures were slowing the transition to alternative fuel vehicles (AFVs).
Commenting on February's new car registrations data today, National Franchised Dealers Association (NFDA) chief executive, Sue Robinson, agreed.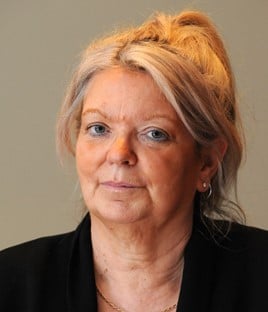 Robinson said that retailers were optimistic about the pent-up demand set to reach their businesses when showrooms are allowed to reopen, but concended that closures were hampering the speedy transition to AFVs desired by Government. She said: "Feedback from retailers suggests that it can be more challenging to sell cars that consumers may not be fully familiar with, such as electrified vehicles that have only just entered the market.
"Customers want to see these cars, try them and ask questions in person, indicating that also our transition to a zero-emission market will benefit from the reopening of dealerships.
"Online sales, with 'click and collect' and deliveries, have been providing a lifeline for retailers who demonstrated once again their resilience selling nearly two thirds of the new cars sold this time last year before the outbreak of the pandemic when dealerships were open and operating normally; however, dealers are now looking forward to reopening soon and safely welcoming customers back into showrooms".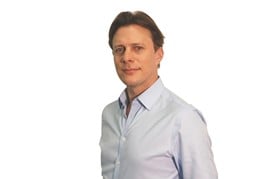 Auto Trader's commercial director, Ian Plummer, described Boris Johnson's decision to leave car showrooms closed throughout the March 'plate change month as "disappointing", adding: "With UK car production down nearly 30% due in part to the closures, the government needs to recognise the value in driving car sales as well as local production, both of which contribute major tax revenues the Treasury can surely ill afford to curb."
But he said that a 100% increase in the number of new car leads being sent to retailers via Auto Trader pointed to "very healthy levels of demand in the market".
Plummer added: "It's important to note that online sales are still permitted, and the fact most retailers are currently performing at around 70 to 80% of normal new and used car volumes, not only highlights the success retailers have made of their digital channels, but also that there are still sales to be made this month."