A 'record' 73 million visits on Auto Trader in May was accompanied by an 8.1% year-on-year (YoY) increase in the average price of a used car.
Auto Trader Retail Price Index, which is based on daily pricing analysis of circa 9,000 vehicles, revealed the average price of a used car in May was £13,973.
Auto Trader said it marks the third month the rate of growth has accelerated, increasing from the 7.1%, 7.0% and 6.6% recorded in April, March and February respectively.
The last two weeks saw a 'rapid increase', surging from an average growth of 7.3% YoY mid-way through the month, to 8.1% during the final week.
The growth has been driven by the growing imbalance of supply and demand levels in the market; whilst supply fell -18% on May 2019, consumer demand rocketed 36%.
Auto Trader said this was reflected in the increased traffic to the Auto Trader marketplace, which saw a record cross platform visits last month, which surpassed the previous record of 69.3 million in March - an increase of 39% on the same period in 2019 and 6% on April.
Richard Walker, director of data and insight at Auto Trader, said: "The significant acceleration in retail prices we're seeing across the market is unprecedented and shows no signs of slowing.
"It is critical that retailers are reacting to the speed in which the market is moving, which means ensuring the whole forecourt is adjusted to market price, and not just new stock.
"On Auto Trader, we're seeing a significant proportion of older advertised stock which is yet to be repriced to reflect the positive movement of the market, which is not only limiting potential margins, but also dragging down consumer-facing valuations which are based on all advertised vehicles on site."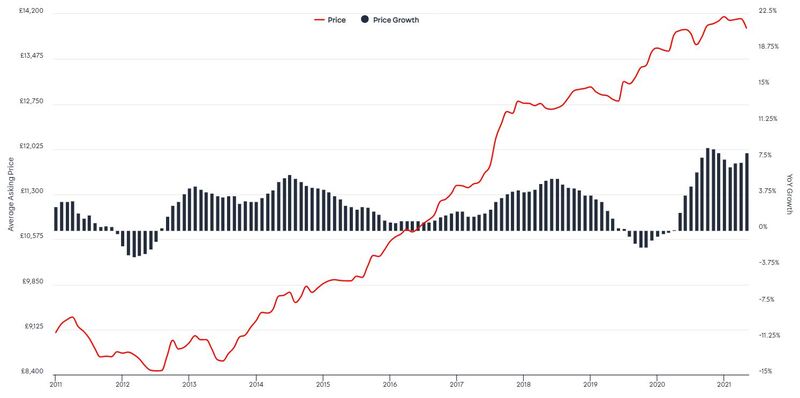 Soaring wholesale used car prices are "not recoverable" through retail price rises, creating an environment of ever-shrinking margins, Cazana's director of insight Rupert Pontin, has said.
Online research
The research also revealed that consumers spent more time on Auto Trader, spending an average of 11.4 million hours researching their next car, which is up 34% on 2019, 6% on April and 7% on the previous record of 10.9 million hours recorded in March.
The surge in activity resulted in an 81% growth in leads being sent to retailers when compared with May 2019.
Last month, it took an average of 23 days for new stock to leave forecourts - 21% fewer than April (29), and 32% fewer than May 2019 (34), marking the fastest speed of sale since September 2020 (23).
Retailer pricing strategies highlight 'market confidence'
Last month an average of 2,205 retailers made daily price adjustments: 111 fewer than in April, and 366 fewer than in May 2021. An average of 12,038 vehicles were repriced every day, 12% fewer than in April, and 27% fewer than in 2019.
There's been an acceleration in retailers making positive price adjustments said Auto Trader, and of those retailers who made daily adjustments across their forecourts last month, 32% increased sticker prices, which is up on the 22% recorded in April, and the 15% in February.
As a result, during the middle of May, the direction of daily adjustments being made shifted positively, with retailers increasing their prices by an average of £31, and by the final week, by £41.
In contrast, during the final two weeks of May 2019, retailers were dropping their prices by an average of -£325 and -£336 respectively.
Prices for premium EVs reduces
The average prices for both used petrol and diesel cars accelerated month-on-month.
The average price of a petrol increased from 5.8% YoY in April to 6.5% (£12,489) in May, whilst their diesel counterparts increased from an already significant 9.2% YoY in April to a very robust 10.2% (£14,557) last month.
Used volume electric vehicles (EV) recorded a similar trajectory, with the rate of growth, rising from 8.2% YoY in April, to 10.3% (£21,067), which marked the first acceleration in growth since December.
Premium EVs saw like-for-like prices contract from -4.0% YoY in April, to -8.7% (£43,525); a result of strong levels of supply (220.2% YoY) in the market outperforming a robust level of consumer demand (191.7% YoY), said Auto Trader.
Sue Robinson, chief executive at the National Franchised Dealers Association (NFDA), added: "Demand for used cars is buoyant and this is mirrored by the upward price trajectory we have been seeing for a few months.
"Retailers remain optimistic as consumer confidence improves and the economy continues to recover."