Franchised car dealers across the UK experienced the lowest new car registrations total since 1998 in a "desperately disappointing September" number plate change month, the SMMT has confirmed.
The Society of Motor Manufacturers and Traders reported this morning that new car registrations slumped by over a third (34.4%) on the September result delivered in the resurgent second-half of a COVID-hit 2020, with just 215,312 units finding new owners.
The ongoing shortage of semiconductor microchips continues to impact vehicle availability, it said, with the 2021 performance down some 44.7% on the month's pre-pandemic 10-year average.
Private demand was down 25.3% as large fleets declined by 43.1%.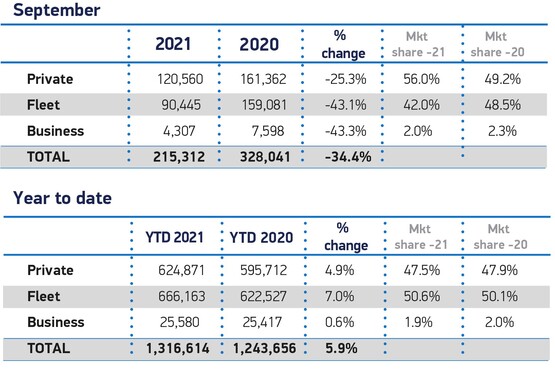 The result means that year-to-date registrations are now just 5.9% ahead of 2020 figures, and 29.4% down on the pre-pandemic decade-long average.
SMMT chief executive, Mike Hawes, said: "This is a desperately disappointing September and further evidence of the ongoing impact of the COVID pandemic on the sector.
"Despite strong demand for new vehicles over the summer, three successive months have been hit by stalled supply due to reduced semiconductor availability, especially from Asia.
"Nevertheless, manufacturers are taking every measure possible to maintain deliveries and customers can expect attractive offers on a range of new vehicles."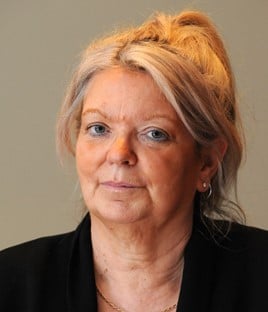 National Franchised Dealers Association (NFDA) chief executive, Sue Robinson, pointed out that consumer demand remains strong, a defining factor which has led to soaring prices and high margis in the used car sector in recent months.
"New vehicle sales in the UK declined in September as a result of supply-side issues facing the sector and despite buoyant demand from consumers, as confirmed by 97.7% of surveyed franchised vehicle dealers whose stock was affected by the global microchip shortage", said Robinson.
"Whilst September is an important month for the sector and the decline is disappointing, albeit expected, retailers continue to experience robust consumer demand with a strong used car market and increasing appetite for EVs, partly driven by the fuel issues at the end of the month."
The SMMT's data showed that September was the best month ever for electric vehicle (EV) registrations, as Tesla's Model 3 topped the UK registrations rankings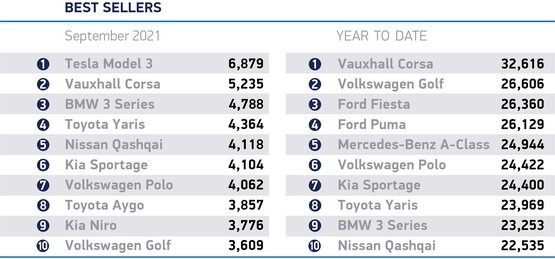 A total of 6,879 of Tesla's entry-level models found new owners last month, ensuring it beat the Vauxhall Corsa to top spot.
Overall, the EVs' market share rose to 15.2% in September as 32,721 BEVs joined the road in the month.
The September performance was just over 5,000 shy of the total number of EVs registered during the whole of 2019.
Plug-in hybrid (PHEV) market share grew to 6.4%, meanwhile, meaning more than one in five new cars registered in September was zero-emission capable.
Hybrid electric vehicles (HEVs) grew their overall market share from 8.0% in 2020 to 11.6%.
Commenting on the rise of alternative fuel vehicle (AFV) market share, Robinson said: "It is positive that the plug-in electric vehicle market continues to expand.
"Franchised dealers have been investing in their sites and staff training to support the transition to zero emissions and the growth of the market demonstrates it.
"As we enter the final quarter of the year, we will monitor the impact that supply constraints have on the market, with retailers continuing to play a central role in helping their customers to find the vehicle that best suits them."
Hawes said: "The rocketing uptake of plug-in vehicles, especially battery electric cars, demonstrates the increasing demand for these new technologies.
"However, to meet our collective decarbonisation ambitions, we need to ensure all drivers can make the switch – not just those with private driveways – requiring a massive investment in public recharging infrastructure.
"Charge point roll-out must keep pace with the acceleration in plug-in vehicle registrations."