Society of Motor Manufacturers and Traders (SMMT) chief executive Mike Hawes has expressed hopes of a "brighter" 2022 for UK automotive after new car registrations declined by 24.6% in October.
The month suffered its lowest registrations total since 1991, according to SMMT data, as 106,265 found new owners and leaves expectations of a year-end total of around 1.66 million units – just 1.9% ahead of COVID-hit 2020.
Hawes highlighted the headwinds of supply constraints triggered by the global shortage of semiconductor microchips and other components to manufacturers and, increasingly, strong inflation rises, tax increases and weakening consumer confidence in a bleak outlook for the remainder of the year.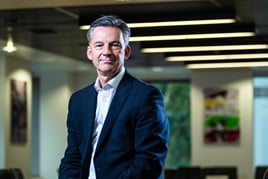 But, drawing on data which showed a further uplift in the take-up of electric vehicles (EV), he added: "Electrified vehicles continue to buck the trend, with almost one in six new cars registered this year capable of zero-emission motoring, growth that is fundamental to the UK's ability to hit its net zero targets.
"With next year looking brighter, and even more new models expected, the continuation of this transition will depend on the preservation of incentives that overcome the affordability barrier, and the ability of the public and private sectors to increase public on street charging to allay EV driver concerns."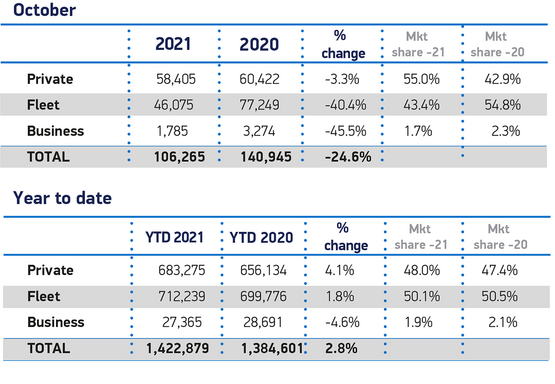 The SMMT said that it expects a "partial recovery" of the UK automotive sector in 2022, with a forecast of 1.96 million new car registrations driven by continued demand for plug-in vehicles.
According to the SMMT, plug-in vehicle uptake remained positive in the month before COP26, with EVs equalling their September market share of 15.2% with 16,155 units, while plug-in hybrid vehicles (PHEVs) grew to 7.9% or 8,382 units.
Plug-in vehicles now account for 16.6% of all new car registrations in 2021, which, when joined by a further 9.1% from hybrid electric vehicles means that 25.7%, or more than a quarter of the new car market, has been electrified year-to-date.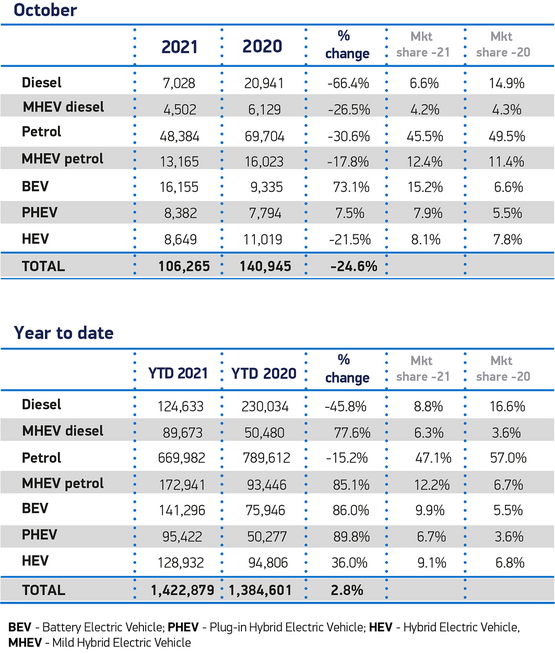 The SMMT's data suggests that, despite the market's dip, more electrified vehicles will join Britain's roads in 2021 than during the whole of 2010 to 2019 combined.
October's weak new car registrations performance resulted from a substantial 40.4% decline in demand from large fleets.
Private demand fell by a more modest 3.3%, although this apparent small decline is compared against weak consumer uptake during the pandemic-affected October 2020, the SMMT said.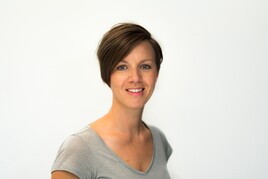 Karen Hilton, heycar's chief commercial officer, said that October's new car registrations made for "grim" reading for car retailers.
She added: "This is especially worrying when you consider the impact this ongoing absence of new vehicles is having on those who work in the industry.
"For showroom staff in particular, who rely so heavily on commissions, this has the potential to have the biggest impact."
Retailers have told AM of a shift towards sales executive incentives for order take in recent months, however, leaving customer contact the biggest concern for many as lead times remain uncertain.
Reflecting on the new car market's headwinds on the used car sector, Ian Plummer, commercial director at Auto Trader, insisted that demand for cars remains "very strong".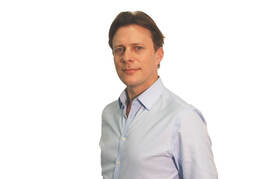 He added: "The new car supply squeeze continues to have an inflationary impact on the used car market. In October the average price of a used car increased over 25% YoY. That's 19 consecutive months of price growth.
"In fact astonishingly nearly 1 in 4 'young' used cars on Auto Trader are now priced higher than their brand new equivalents with nearly half within 5% of that new car price The old adage about new cars plummeting in value as soon as you drive them off the forecourt seems to be consigned to history – or at least suspended."
.