An 80th consecutive week of increasing used car values and the highest level of UK inflation for a decade is unlikely to temper consumers' appetite to buy a new vehicle, Auto Trader has said.
As inflation rose from 3.1% in September to 4.2% in October – its highest rate since 2011 – the online marketing platform said that a 26.9% year-on-year increase in values to a new record average of £19,766 on its portal was showing no signs of putting customers off.
A survey of its customers found that over two-in-five consumers intend to buy a vehicle within two weeks as cross platform visits to Auto Trader last week increased 27% (to over 14 million visits) on the same period two years ago.
And as used car supply dropped by a further 8% the high pace of retailers' selling continued.
Last week it took an average of just 27 days for stock to leave forecourts, down on October average of 24 but 16% faster than the speed of sale recorded in 2019.
Auto Trader's Data and insights director, Richard Walker (pictured above), said: "To see such a huge increase in car prices in such a short period of time is truly remarkable and is indicative of the current perfect storm of exceptionally high levels of consumer demand coupled with very constrained new and used supply channels.
"We're also comparing against a period of national lockdown last year, which will further contribute to the high level of growth we're seeing.
"Although inflation will always pose a threat to demand, based on the positive consumer metrics we're tracking across the retail market, as well as broader economic factors such as the record number of job vacancies reported just this week, we don't anticipate any significant easing beyond normal seasonal trends.
"Accordingly, with such strong levels of demand, and no end in sight for the current supply challenges, we can expect the strong year-on-year price growth to continue well into next year."
Despite last week's continued year-on-year used car prices rises, AM reported yesterday on data published by Real Time Communications (RTC) which showed that retailers are still under-pricing up to 60% of their forecourt stock.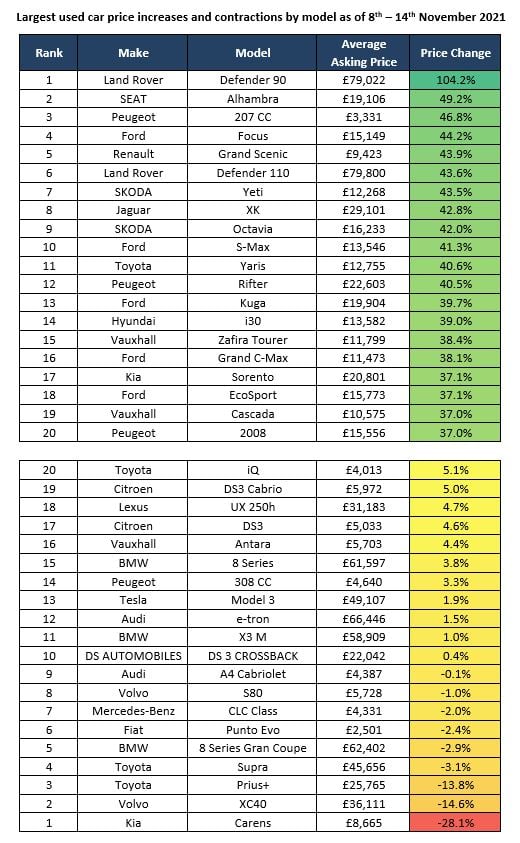 Auto Trader's weekly ranking of the most appreciating and depreciating cars on its marketing platform placed the Land Rover Defender 90 as the most in demand vehicle, with prices up by an average of 104% to £79,022.
And while the Seat Alhambra, Renault Grand Scenic and Ford S-Max seemed to suggest that a new car market largely starved of MPVs was resulting in high demand, Kia's Carens was ranked as the market's most depreciating vehicle, with prices down an average of 28.1% to £8,665.
Auto Trader's most recent consumer survey – of 1,100 car buyers – showed that 22% intend to purchase within the next three months, while 43% intend to do so within two weeks. This represents an increase from 41% in September.
Almost a third (31%) of those surveyed said that they believe car ownership is more important today than it was pre-COVID, whilst 44% feel more confident in their ability to afford their next car than they did a year ago.
Auto Trader predicts that the market will record a total of circa 7.75 million used car sales this year.
Last week the Society of Motor Manufacturers and Traders (SMMT) revealed that the UK used market was 16.4% up year-to-date on 2020 to 5,889,601 units at the end of Q3 – an increase of 829,780 transactions – but remained 3.9% (241,160 units) off the total for the first nine months of 2019 following a 6.2% decline in the quarter.