The Society of Motor Manufacturers (SMMT) has called for stakeholders to match the automotive industry's commitment to deliver zero-emission mobility.
The SMMT's updated blueprint for delivering the zero emission transition, Plugging the Gap, calls on all parties integral to the drive to zero, including charge point operators and government, to help 'plug the gap' between infrastructure rollout and uptake.
Analysis by the SMMT has revealed that manufacturers have committed £10.8bn in UK electric vehicle (EV) and battery R&D and production since 2011.
The SMMT has advocated a nationally co-ordinated, locally delivered infrastructure plan, with binding targets for charge points that match those imposed on vehicle manufacturers.
Overseen by a regulator, such a plan would put consumers at the heart of the transition, accelerating charge point provision and addressing charging anxiety among drivers and businesses, it said.
Mike Hawes, SMMT chief executive, said: "The UK automotive industry has set out its intent – to meet the challenge of net zero – and has backed that ambition with cash, investing massively during Britain's first electric decade.
"As we enter the second, the stakes are higher, with some of the world's toughest regulation coming, regulation that will seek to determine the pace of change in a market constantly buffeted by headwinds.
"But mandates on manufacturers alone will not drive the market. Delivering net zero needs a competitive industry and a competitive market.
"We need a holistic strategy with binding targets on charge point provision, attractive fiscal and purchase incentives, and a reliable, accessible and affordable user experience. We need a universal right to charge electric vehicles, for all drivers, wherever they live, wherever they travel and whatever their needs."
Last week Chancellor Rishi Sunak revealed tax cuts to fuel and wages in the Spring Statement, which included plans to work with businesses ahead of the Autumn budget to understand whether the Apprenticeship Levy is doing enough, and whether businesses need tax cuts to encourage investment in R&D spending, productivity, innovation and vocational skills development.
The SMMT recently called on government to create a new regulator to accelerate the expansion of EV charge points and boost public confidence in the technology.
There are now more than 140 models on the market, with EVs comprising more than one-in-six new cars and one in 28 vans registered.
One-in-80 cars on the road runs on electricity, with the UK aiming for one in three by 2030 if net zero ambitions are to be met. The challenges are examined in the SMMT's blueprint.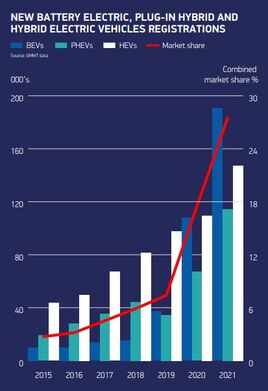 Private motorists accounted for a third of new plug-in registrations in 2021 with uptake higher among businesses and fleets.
The SMMT said further growth in the market depends on charge point provision and affordability.
Research by the SMMT shows that the ratio of public standard chargers to EVs has deteriorated, with one charger for every 32 plug-ins across the UK compared with one for every 16 just 12 months ago, and significant regional variations.
It said the blueprint would help the one in three households that do not have off-street parking and would be reliant on public charging to make the switch.
A "well-supported" market would help attract greater industrial investment, creating jobs and supporting economic growth, said the SMMT.
"Gigafactory investment is essential"
Gigafactory investment is also essential if the UK is to achieve the 60GWh capacity it needs by 2030, a capability that would support the production of around one million EVs a year, said the SMMT.
While overall UK gigafactory capacity is currently just 2GWh, the £10.8 billion figure includes major battery production commitments that will come online in the coming years, estimated to take UK capability to around 41GWh by 2027.
The EU, meanwhile, is forecast to have a capacity of up to 1.5TWh by 2040, with more than 25 gigafactories either under construction or in development.
Government must create the right conditions with a streamlined process for obtaining the necessary permits and licences, access to skilled and productive labour, and competitively priced clean energy, for the UK to become a location of choice for potential investors, said the SMMT.