The Society of Motor Manufacturers and Traders (SMMT) has called for energy crisis relief from Government after the UK's car manufacturing output declined by 11.3% in April.
A total of 60,554 vehicles were produced last month as the ongoing global shortage of semi-conductors, the impact of the war in Ukraine on supply chains, model changes and broader industry structural changes all contributed to a volatile month's output, the SMMT said.
The closure of Honda UK's car plant in 2021 has also continued to impact export figures, particularly to the US, which was a key market for the Japanese brand's Civic hatchback.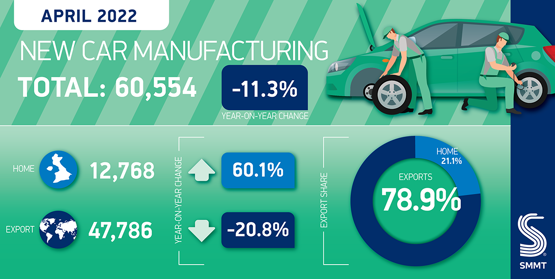 April's new car manufacturing total was 7,752 down on April 2021, 14.7% below an April 2019 pre-pandemic level which had already suffered a 44.5% decline on April 2018 when shutdowns were rescheduled to mitigate against the possibility of a no-deal Brexit.
The SMMT asserted that, as the overall cost of business continues to increase, UK automotive manufacturing "urgently needs relief on specific input costs, most notably energy".
The SMMT said that a doubling of energy costs over the past year was putting UK manufacturers at a competitive disadvantage.
In a statement accompanying today's (May 26) release of the April production figures, it added: "UK automotive manufacturing needs relief equivalent to that afforded to Energy Intensive Industries and access to low cost and low carbon energy comparable to European competitors, combined with long-term measures to boost investment in R&D, plant and machinery and skills to ensure productivity and competitiveness are assured as the sector transitions to zero carbon technologies."
In an AM news insight feature published in November last year retailers and sector experts suggested that soaring energy prices compel car dealers to switch off the showroom lights. Since then, continued price rises and the lifting of energy price caps have further compounded the issue.

Six-in-10 cars built in the UK during April were exported to the EU, while production for the UK swelled by 60.1%, rising for the second month in a row.
The SMMT said that the "substantial rise" was primarily the result of new models coming to market, but was flattered by comparison with April 2021 when the economy was restarting after lockdown.
More than one-in-four (26.4%) cars made in April (16,010 units) was electrified, up 2.1% year-on-year as pure electric vehicle (EV) output rose 38.2% to achieve a 9.9% market share.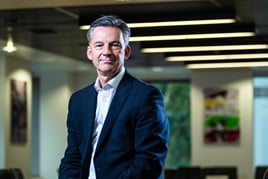 SMMT chief executive Mike Hawes said: "The UK car industry is exposed to a host of issues that are undermining output and competitiveness.
"Global chip shortages and supply chain disruption are exacerbated by spiralling energy costs, additional trading costs and slowing global markets.
"The foundations of the sector are strong and the transition to zero and ultra-low emission vehicles continues apace but we need more policies and measures that support manufacturing and encourage investment into the UK at this most challenging of times."