Hyundai and Kia defied car manufacturing's supply shortages to grow their European market share by 10% year-on-year during May.
Jato Dynamic's latest sector data from 27 leading new car retail markets showed that the new car market declined 13% with a total of 935,854 registered units last month in what was the region's worst May performance since 1985.
The result leaves the sector 13% down by volume year-to-date, with new vehicle registrations to 4,482,463 units.
But, while the Volkswagen Group continued to lead the market Jato observed that there was "a shift in the balance of power among Europe's leading OEMs" as both VW and Stellantis lost market share to the Korean pairing of Hyundai and Kia.
Hyundai-Kia accounted for 10.1% of the total market in May – up 10% on the same period a year earlier – as it registered close to 94,800 units.
It is the sixth time that the Korean manufacturer has recorded more than 10% of the monthly market share in Europe and comes as Kia targets a record 100,000 sales in the UK.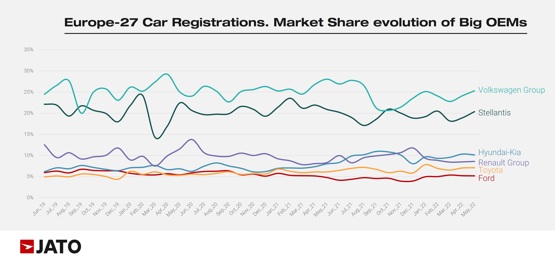 Jato Dynamics' global analyst Felipe Munoz said: "It's remarkable to see Hyundai-Kia secure such an impressive result while other OEMs are struggling to absorb the combined impact of surging inflation, the geopolitical situation in Ukraine, and an ongoing chip shortage."
Peak EV production
Munoz suggested that the shortage of components in car manufacturing had seen most OEMs reach the limit of how many electric vehicles (EV) they could deliver in May, reflecting AM's report that even fast-growing MG had suspended sales of its EVs in the UK.
EVs, plug-in hybrids (PHEV) and fuel cell electric vehicles (FCEV) accounted for 179,700 registrations across Europe in May – up 3.6% on the 173,400 units registered in the same month last year – as their market share increased from 16.2% to 19.2% year-on-year and by 11.8ppts on May 2020.
Pure electric cars (EV) accounted for 56% of the total, up by 19%, offset by the 12% decrease in PHEV registrations, Jato reported.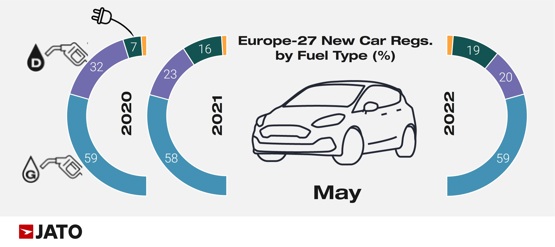 The EV market was dominated by Volkswagen Group (24.4%), Stellantis (20.5%) and Hyundai-Kia (12.1%) by the Volkswagen Group, Ford, Nissan, Tesla, and Mazda all posted market share declines during the month as volumes soared by 197% for Chinese brands.
The zero-emissions Fiat 500 once again dominated the EV sales charts, with a further 71% increase in registrations.
It was followed by the Peugeot e-208, with registrations of the hatchback rising 106% in the UK.
VW Group secured third place in the EV rankings with the Volkswagen ID.4.
Stellantis tops best-sellers
Stellantis occupied the top three best-selling car positions across all fuel types during May.

Again, its Peugeot 208 led the pack with more than 18,250 units – up by 15%.
The Opel/Vauxhall Corsa secured second place, up by 16%, followed by the Fiat/Abarth 500, up by 1%.
In contrast to the progress made by Stellantis, Volkswagen saw declines for the T-Roc and Golf – the fourth and fifth most registered cars in Europe last month.
Munoz said: "Due to ongoing shortages, availability is having a significant impact on the composition of the rankings and brands that are producing more vehicles are seeing this reflected in their sales performance."