The growth leaders for UK new car registrations are offering models with an average monthly personal contract purchase (PCP) price of just £230.50.
In the current edition of AM Magazine, Tom Seymour took a look at the finnace trends feeding sales growth for some.
MG, Fiat and Dacia have all posted a strong year-to-date registrations performance and this has been backed by more affordable finance offers.
Even with extra cash for households from the Chancellor in the coming months, many remain under pressure from rising energy/fuel costs.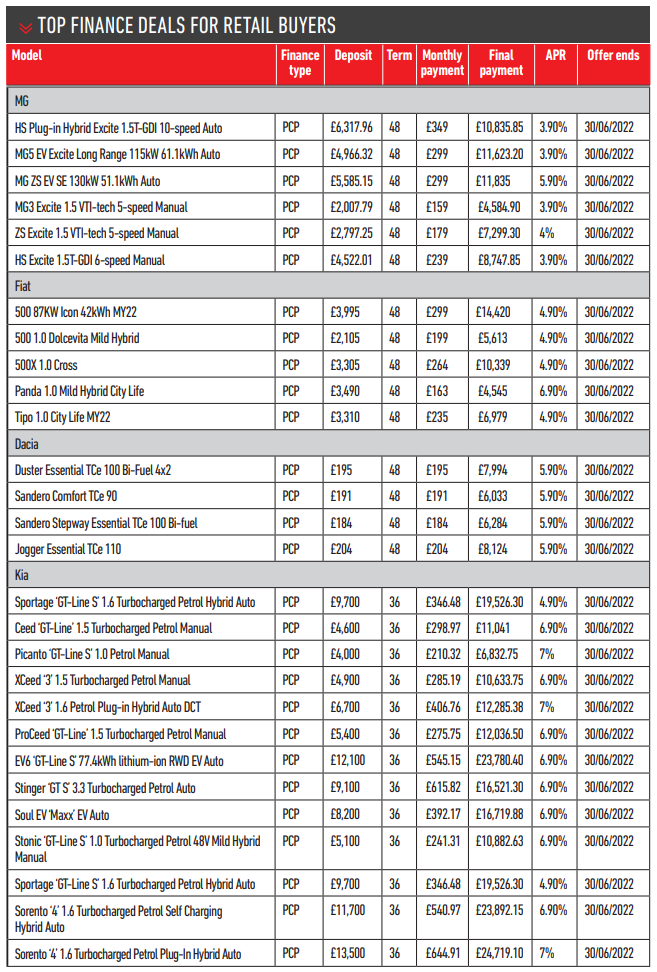 There's a running theme between each of these three brands. Either offer a low price point or have some exciting new plug-in vehicles. Ideally both.
Half of MG's offers highlighted here are for plug-in vehicles. Both the ZS EV and MG5 EV Long Range are available for less than £300 a month.
At a time when many customers are actively thinking about switching to zero emissions MG can capitalise on being able to offer EVs with more than 200 miles of range at a far lower price point per month than the majority of competitors.
Likewise Fiat's new electric 500 is available for less than £300. There's £500 off the 500 mild hybrid version and a further £700 discount in Q2 on the 500X.
What Dacia lacks in plug-in prowess it makes up for in affordability with its entire range highlighted in the AM data available for close to £200 a month.
LOW DEPOSITS
The value-for-money brand has made its deposit levels very simple for Q2 as well, mirroring the monthly payments so customers can get into a new car without needing to put down much money.
If customers have a part-exchange, this would likely reduce the monthly payments even further.
MG may find itself some even stiffer competition if Dacia makes the decision to bring its electric Spring small SUV to the UK in the future.
An additional bonus for Dacia customers until the end of June is a two-year service plan based on 12,000 miles a year for any new vehicle on finance.
When looking at total volumes so far this year, Kia stands out from the pack.
The AM Award-winning Manufacturer of the Year for 2022 has such a broad range to cater to all budgets. It has continued with its scrappage scheme that offers discounts of £1,750 off a new Picanto or Rio, or £2,250 off a Stonic.
The Korean brand does this all while running relatively high APR rates of 7% across most of its models, earning the captive finance house and dealers a tidy profit in the process.
Kia is bolstering its new car orders with discounting in Q2, offering as much as £2,500 off models like the XCeed and £2,250 off the Ceed.
Every model gets a discount (excluding the in-demand EV6) and the average deposit contribution is nearly £1,350.