Data for the August new car market shows that Tesla was the ninth most in-demand car brand, ahead of the likes of Mercedes-Benz, Peugeot, MG Motor and Volvo.
However Volkswagen topped the table, outselling Tesla by two cars to one, in a month that overall ended 24.4% ahead of August 2022 with 85,657 new car registrations.
The increase was fuelled by a surge in registrations by large fleets, rising 58.4% to 51,951 units, while business registrations grew 39.4% to 1,635 units.
Conversely, in advance of the September plate-change private demand softened by -8.1% in August, compared with a supply-constrained 2022 market.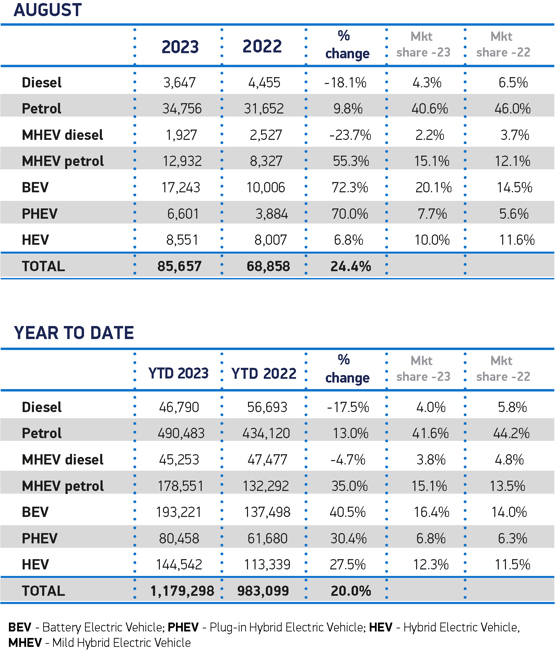 That strong fleet sector demand also helped battery electric vehicles (BEVs) take a 20.1% share of the market, the highest achieved this year. Corporate fleets and company car user-choosers continue to be offered fiscal benefits to swap to electric cars, unlike the private motorist.
Plug-in hybrids rose by 70% to take a 7.7% share of August's sales. Hybrids remain stable, with 10% share.
Mike Hawes, SMMT chief executive, said, "With the automotive industry beginning a second year of growth, recovery is underway with EVs energising the market. But with a new Zero Emission Vehicle Mandate due to come into force in less than 120 days, manufacturers still await the details.
"Businesses cannot plan on the basis of consultations, they need certainty. And now, more than ever, government must match action to ambition, ensuring there are the incentives and infrastructure in place to convince drivers to make the switch."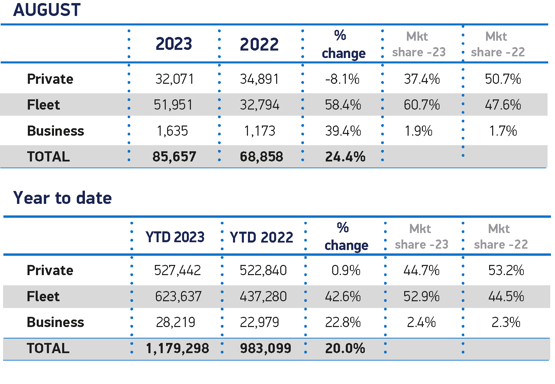 The SMMT said the automotive sector is committed to Net Zero but the diminishing time threatens the ability of the market to move.
Demand from both business and private consumers must be boosted still further, it said, if ambitions are to be met, but while businesses benefit from fiscal incentives to switch, there is no similar package for the private consumer market.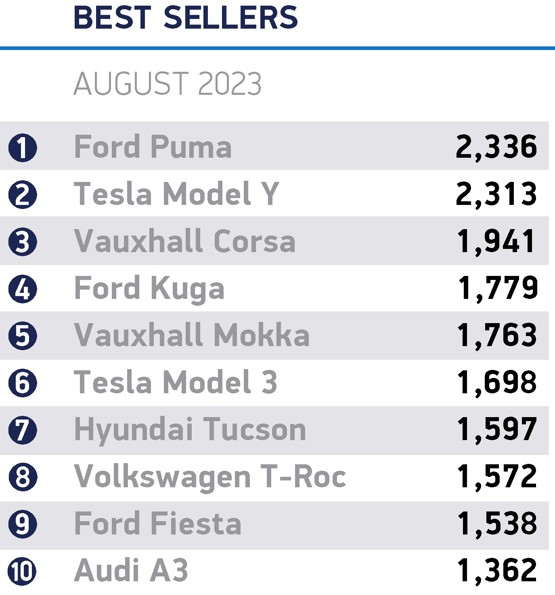 While Volkswagen led August's market with 8,335 new car registrations, followed by Ford in second place with 7,449 units, the exclusively EV brand Tesla was the ninth highest selling car brand in the UK, with 4,021 registrations.
Its achievement bettered those of Mercedes-Benz (at 3,646 new cars), Peugeot (at 3,112 new cars), Nissan (2,336 units) and Volvo (1,648 units).