A new 52kWh battery that boosts range by 30% is the biggest development in the new Renault Zoe electric vehicle, which goes on sale this month priced from £18,670.
Official tests show the new Zoe is capable of 242 maximum range on a single charge.
And charging can now be carried out using AC and DC chargers.
When using a 7kW wallbox the car can charge from zero to 100% percent in 9 hours and 25 minutes.
A 22kW charger can deliver 78 miles of range in one hour. New 50kW DC chargers can add around 90 miles of range in as little as half an hour.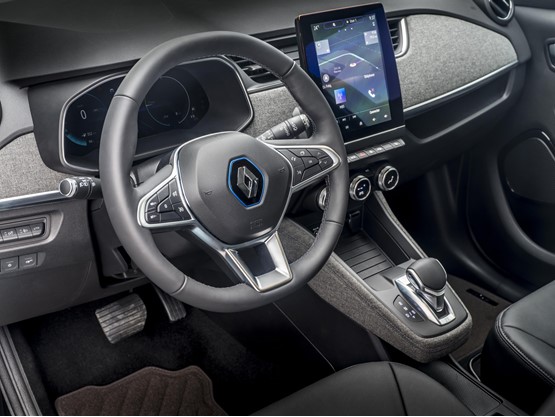 Two electric motors will be offered, with outputs of 108PS (R110) and 135PS (R135).
The new R135 motor develops 245Nm, giving a zero to 62mph time of less than 10 seconds and a 50 to 75 mph time of 7.1 seconds.
The R110 motor is carried over unchanged from the current generation Zoe.
Both motors now come equipped with the new "B mode" driving function, which intensifies the regenerative braking effect to essentially allow the driver one pedal operation of the car. When B mode is activated, the car decelerates significantly faster as soon as the driver releases the accelerator pedal. B mode makes driving easier, especially in the city or in slow moving traffic.
On a technical level, its integration is accompanied by a new braking system that offers improved feel through the pedal. As for D mode, it remains particularly useful when the car is moving at a constant speed, on the open road or motorway for example.
The driver can switch on demand between B and D modes with a simple push on the new e-shifter. This replaces the old car's mechanical lever with an electronic switch.
Externally the car has been given a facelift, with new bumpers and standard-fit LED headlights, and the interior features a new layout with digital instruments and a 9.3-inch portrait infotainment screen.
The Renault Zoe is still available to buy both as full purchase, with no mileage limit on the battery and an eight year/100,000-mile guarantee, or as a battery lease option.