The all-electric version of Citroen's new C-segment C4 hatchback – the e-C4 – could account for up to 20% of global sales, according to the PSA Group brand's chief executive Vincent Cobee.
Officially unveiled to around 2,600 journalists from across the globe in an online press conference yesterday (June 30), the new C4 model will replace the existing C4 Cactus this summer and is expected to reach UK showrooms by the end of the year.
And as the Citroen brand's first new product in a wave of electric vehicles (EV) from the PSA Group, the new e-C4 version is expected to drive the brand's emissions-reducing ambitions with a 217-mile range, 9.7-second dash to 62mph and 93mph top speed coupled to "class-leading comfort and space".
Cobee told journalists that he is prepared to be surprised by the sales performance of the EV version of the new C4 when it goes on sale. He said: "The PSA Group has been complying with the EU's new CAFE emissions regulations in every month since the start of the year and the proportion of EV sales is now at around 6%.
"The last few months have been transformative. We have to now expect that the unexpected might happen.
"I think we'd hope to start at eight to 10% of sales (being electric) but I wouldn't be surprised if we move towards 20% very, very rapidly."
As well as its new 136PS, 50 kWh electric drivetrain, the new C4 will be made available with a choice of Euro 6d petrol engines ranging from 100PS to 155PS and diesel power from 110PS to 130PS.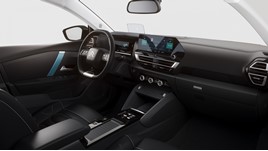 The new model combines the sleek silhouette of a hatchback with the "premium" elevated driving position and large wheels of an SUV, according to Cobee.
Practicality comes from a 380-litre boot and a body which is some 20mm longer (4,360 v 4,157), 86mm wider and (1,800 v 1,714) 45mm taller (1,525 v 1,480) than the outgoing Cactus.
The C4 is modelled around an evolution of the Citroen Advanced Comfort programme seen across the French car brand's model line-up.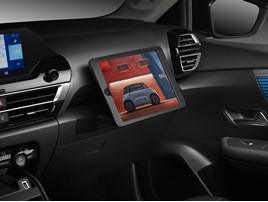 The Advanced Comfort package includes suspension with the brand's Progressive Hydraulic Cushions, Advanced Comfort seats and an iPad stand which can be deployed from dashboard on the front passenger side of the cabin.
Among a collection of 20 driving aids, the new C4 features Highway Driver Assist (a level two semi-autonomous driving system) and six connectivity technologies.
A rooftop reversing camera – similar to the ClearView system seen on the Range Rover Evoque – is also part of the technology features centred around a 10-inch touchscreen infotainment system.
Citroen said customers will be able to choose from 31 exterior combinations to create a car that suits their image, with sill level AirBumps also part of the potential customisation options.
Seven body colours (Polar White, Obsidian Black, Steel Grey, Platinum Grey, Elixir Red, Caramel Brown, Iceland Blue) and five Colour Packs (Glossy Black, Metallic Sand, Textured Grey, Anodised Deep Red, Anodised Blue) feature on the options list.
Citroen launched the latest version of its C4 Cactus in the summer of 2018 in an evolution which brought it closer to C-segment hatchback rivals like the Ford Focus and Volkswagen Golf.
Last year, however, sales dipped by almost a quarter (24.2%), from 5,599 to 4,245, to account for just 8.4% of the brand's 50,806 2019 registrations total.