Volkswagen (VW) will start accepting orders for the ID 3 electric vehicle (EV) in some European countries from July 20, with a choice of seven pre-configured models available.
UK buyers will have to wait a bit longer, however, as final pricing and specification has yet to be decided.
In a manufacturer insight feature set to be published in the next issue of AM's Digital Edition this week, Volkswagen UK managing director, Andrew Savvas, did confirm that UK deliveries would commence in September, however.
Reports that the ID.3's scheduled summer arrival had been jeopardised by software issues would have set alarm bells ringing.
But the in his first interview since becoming Volkswagen UK MD, Savvas, told AM: "That timeline hasn't changed."
Savvas assured AM that there would be more than enough ID 3 allocation for its initial crop of customers, with "plenty of interest coming through".
On July 22, VW will start accepting orders from those that pre-booked an ID 1ST by paying a £750 deposit.
In Germany, the brand started accepting orders from pre-bookers four weeks ago. VW stopped accepting pre-orders once it had taken 30,000 deposits.
"We are overwhelmed by the loyalty shown by so many pre-bookers," said Jürgen Stackmann, Volkswagen Brand board member for sales.
"A large majority of these customers have already ordered their 1ST from dealers. Other customers, who have had to wait for the start of production sales, will now be able to order. From July 20, they can choose between seven preconfigured ID.3 models with the most popular features at their dealerships."
The initial vehicles are based on the rear-wheel-drive ID 3 Pro Performance with a 58kWh battery and 260-mile range.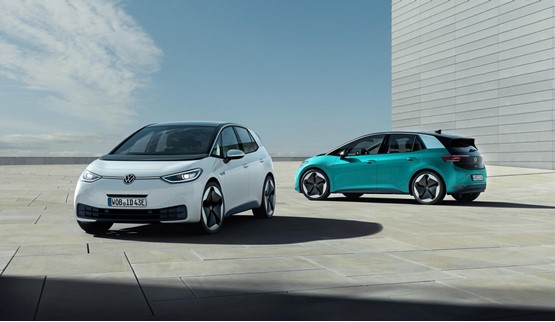 Prices for the ID 3 Pro Performance start at £32,299 in Germany.
The ID 3 Life costs £34,308 and comes with steering wheel heating, seat heating and two additional USB-C ports.
Style models are £37,174 and feature matrix LED headlamps, LED tail lights with dynamic swiping function, and a panoramic glass roof.
There are also Business, Family, Tech and Max trims – although UK prices and specs are likely to differ.
Customers in Germany will also be able to order the ID 3 Tour with a larger battery for a longer range of up to 342 miles.
The ID 3 is the brand's first electric car built on its new standalone MEB platform. It will be followed by the Cupra el-Born, which launches next year.
Under its electric offensive, the VW brand is planning to offer electric vehicles in all of the main vehicle segments by 2022. It is investing £30 billion throughout the Group up to 2024, £10 billion of which is earmarked for the VW brand alone. For 2025, the VW brand expects to produce 1.5 million electric cars.
The seven ID 3 models announced will open for order in the UK at a later date than in Germany. More information including UK pricing and specification will be announced nearer to the time.