Renault will reinvent its Megane with an all electric version in 2022 and its Dacia brand will launch "the most affordable EV in Europe" with its new Spring early next year.
Dacia has not made the decision yet on whether the Chinese-built Spring will come to the UK as it is still reviewing whether to produce a right-hand drive model.
The Megane eVision (with a golden E) will have a 280 mile range and 60kw power output (equivalent to 215hp).
The battery can be fast-charged at rates of up to 130kW to give 125 miles of range in 30 minutes.
The new model is built on the new Renault-Nissan-Mitsubishi Alliance's CMF-EV platform, which is also being used for the Renault Ariya electric SUV.
While the images present the concept version of the Megane eVision, Renault said 95% of the design will remain on the production model.
At an online press conference held on October 15, Luca De Meo, Groupe Renault chief executive, said: "Thanks to our brand-new Alliance platform CMF-EV, we broke the rules of size, use, design and energy efficiency to imagine the Mégane eVision show-car.
"We took our 25-year best-seller and took it to the future.
"Mégane eVision reinvents Mégane, and Renault reinvents Renault. This is just the beginning; a whole new generation of innovation-packed electric vehicles is to come."
De Meo also revealed that by 2030, Groupe Renault aims to reduce its CO2 emissions by 50% compared to 2010 and is committed to achieving carbon neutrality by 2050.
Dacia Spring Electric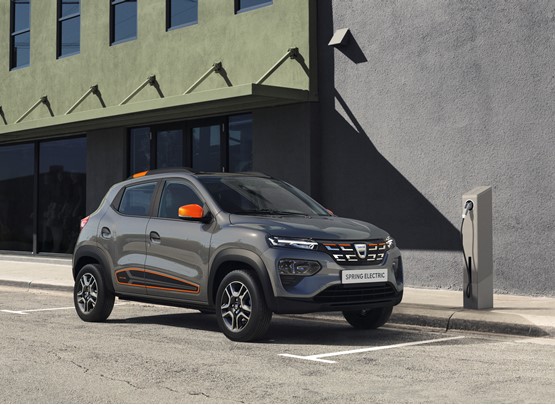 At the same press conference, Groupe Renault revealed the new Chinese-built Dacia Spring which it said will be "the most affordable new EV in Europe".
While prices are yet to be revealed, it would mean this new Spring SUV would be priced below the entry-level price for the MG ZS EV, which starts in the UK from £25,495 (including the £3,000 plug-in car grant). On finance, the Spring would have to be priced below £279 a month on PCP to beat the ZS EV.
The new car will have a 140 mile range and will first launch with car sharing services in Paris and Madrid as soon as January 2021, before going on general sale for private orders in spring next year, with first deliveries by autumn 2021.
The Spring is powered by a 33kW (equivalent to 44hp) all-electric powertrain paired with a 26.8kWh battery.
In Europe, the average daily driving distance is 20 miles in the city car segment.
On this basis, Dacia said the Spring would only need a single battery charge per week.
The first car sharing editions will be available in white and light grey, this version will come with black PET seats (in stain-resistant artificial leather), front door and boot sills, front and rear floor mats, black grained handles and mirrors for greater durability and 14-inch Flexwheel wheels.
The Spring will also come in a Cargo body style aimed at the last mile delivery sector in city centres across Europe.
The Cargo features a boot that extends where the back seat is usually located, with a plastic lining on the floor.
On the interior wheel arches, four anchor rings and a wire mesh partition separate the front passengers from the loading area.
The loading length of this version is 1,033mm, with a volume of 800 litres and a payload of 325kg.
Available in white, the Spring Electric Cargo comes with standard features including manual air conditioning, radio (with Bluetooth, USB plug and an area for a smartphone holder), fabric upholstery, black grained exterior handles and mirrors and 14-inch sheet-metal wheels with "standard" trims.
For weight optimisation reasons, this version does not have a spare wheel.
Denis Le Vot, member of Groupe Renault executive committee, said: "The Dacia brand is about redefining the essential.
"We are known in the car industry for our different revolutions, first with the Logan and then with the Duster which made the SUV accessible for all.
"The Dacia Spring will make inroads into three distinct markets: retail market, car-sharing with numerous car-sharer operators throughout Europe and on the last-mile delivery with its cargo version.
"The Spring will change the game as an affordable electric mobility solution for all."