Nissan's new fully-electric Ariya SUV range will attract a new type of customer to the brand when it goes on sale in the UK next year, according to the manufacturer's head of electric cars.
The Japanese carmaker's franchised car retailers will look to build on the success of its first electric vehicle (EV) – the Leaf hatchback, more than a decade ago – with the new model when it reaches UK showrooms next year.
The Ariya, which was officially unveiled by Nissan yesterday (July 15), will be available with a choice of power outputs and battery sizes – giving a range of up to 310 miles.
Helen Perry, head of electric passenger cars and infrastructure for Nissan in Europe, said: "Our dealers are super excited about Ariya in the same way that we are.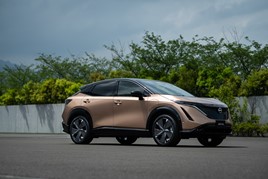 "They understand that this will be the right car at the right moment.
"We expect to attract customers who may be into the coupe-crossover design, they may be interested in the electrification or they may be tech savvy, and our dealer network recognises that.
"Our objective is to offer the customer a premium experience. We try to explain that through the different battery options, through e-4ORCE and through the additional space offered, but our objective is to be priced firmly in the very heart of the C-SUV e segment.
"We are super lucky that our dealers have the experience of selling Leaf for the past 10 years and it is absolutely key that we take our dealer network with us over this period. The training starts today."
Pricing and specification details for the Ariya, which Nissan has confirmed will be built in Japan and not its Qashqai-producing UK facility in Sunderland, are expected to be announced in the next few months, with first deliveries take place in the second half of 2021.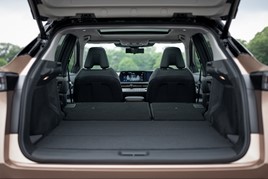 While Nissan considers the Leaf to be a household's 'second car', it expects the Ariya will be a household's 'first car', and the decision to put in bigger batteries was in part to minimise range anxiety and to make it more capable on longer journeys.
Perry also expects fleet customers to be "super interested" in the Ariya due to the current favourable benefit-in-kind (BIK) tax bands for fully-electric vehicles.
In the 2020/2021 tax year, company car drivers will pay no BIK tax on fully electric vehicles as the current band is 0%, while they increase to just 1% for the following year.
As well as Leaf, Ariya will join the e-NV200 van in Nissan's battery electric vehicle range. The manufacturer's ambition is that more than 50% of its line-up will be electrified by 2023.
Earlier this year consumer EV publication, DrivingElectric, named the Nissan Leaf the UK's best-known EV.
By Andrew Ryan