The new all-electric Fiat 500 hatchback will be priced from £19,995 and deliver a range of up to 199 miles, according to newly released details of the brand's first pure EV.
Two battery options – 24kWh and 42kWh – will be offered to customers for the soon-to-be launched model which will only be offered as an EV and claims to be the UK's first four-seat fully-electric convertible.
Reservation books opened in June for the new 500 and order books are now set to be opened in December with first UK customer deliveries expected in March 2021
Among the specification highlights delivered by the range are level 2 autonomous driving, a 10.25-inch touchscreen, 360-degree parking sensors and keyless entry.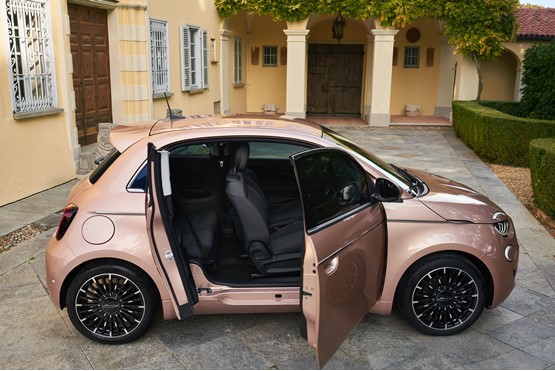 Built at the FCA Group's Mirafiori plant, in Italy, the new 500 is the first fully-electric vehicle designed from the ground-up on an all-new platform from the OEM.
The new Fiat 500 range is comprised of three trim levels – Action, Passion and Icon.
The entry-level Action is fitted with a 70kW motor and will accelerate from zero to 62mph in 9.5 seconds and on to a limited top speed of 84mph.
It comes is equipped with a 50kW fast charging system and a three-phase 11kW Mode 3 cable will also be available for customers to purchase, along with a Wallbox by Mopar.
Numerous ADAS features are standard with Action trim, including: Drowsy Driver Detection, to monitor driver concentration levels; Autonomous Emergency Braking; Lane Keep Assist; and Traffic Sign Recognition.
On the outside of the car, the standard features include halogen headlights and 15-inch wheels.
The new Fiat 500 Passion is available with the 42kWh battery (from £23,495 with PiCG), providing a best-in-class range of up to 199 miles in the WLTP cycle, increasing to 285 miles when only driven in the city.
Its 119PS motor claims a maximum speed limited to 93mph and acceleration from zero to 62mph in nine seconds.
The new Fiat 500 Passion features 85kW fast charging, so recharging the battery to 80% range can take as little as 35 minutes.
The Passion debuts FCA's new infotainment system with a seven-inch touchscreen, wireless Apple CarPlay and Android Auto for connected services and a DAB radio.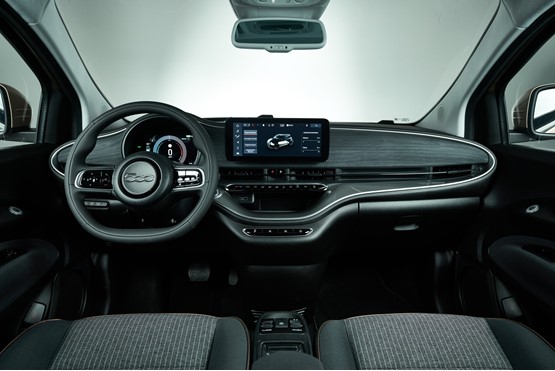 The new system also boasts the Natural Language interface system with advanced voice recognition. Talk to the car using the wake word "Hey Fiat", to control its range and charging settings, program the air conditioning and choose favourite music.
Passion trim also includes cruise control and climate control.
Fiat's range-topping Icon trim (from £24,995 with PiCG) level receives the same 42kWh battery as Passion but adds a new 10.25-inch 'cinerama' touchscreen display.
The high-end version of new 500 stands out thanks to 16-inch alloy wheels while customers can gain entry via a button-free 'pebble' – a smart wearable key that can be carried in a pocket or bag.
Owners of the new Fiat 500 will be able to keep tabs on the charge levels of their car thanks to a 'My Car' app.
Its 'My Remote' enables customers to schedule vehicle charging for the most convenient time slots; locate the nearest public charging stations and pay directly from their smartphone providing access to a network of 200,000 charging points throughout Europe.
It will also find the car's exact location; lock and unlock the doors; turn the lights on and off; and program the air conditioning system.