McLaren Automotive has officially unveiled its first ever series production plug-in hybrid (PHEV) supercar – the 680PS Artura.
Following on from the landmark P1 PHEV hypercar, a limited-run model launched back in 2015, the 570S replacement is the first model to be built on the all-new McLaren Carbon Lightweight Architecture (MCLA) built in-house at the McLaren Composites Technology Centre (MCTC) in Rotherham.
Available to order from the Woking-based brand's UK franchised retail network, prices start at £185,500.
McLaren Automotive chief executive, Mike Flewitt, said: "Every drop of McLaren's experience and expertise has been poured into the Artura.
"Our all-new, High-Performance Hybrid delivers all of the performance, driver engagement and dynamic excellence for which McLaren is renowned, with the additional benefit of EV driving capability.
"The introduction of the Artura is a landmark moment – for McLaren, for our customers who will appreciate and enjoy this car on every emotional and rational level, and for the supercar world."
McLaren Automotive's new home-grown composite chassis platform helps to make the Artura the lightest car in its class, with kerb weight of just 1,498kg, according to the brand.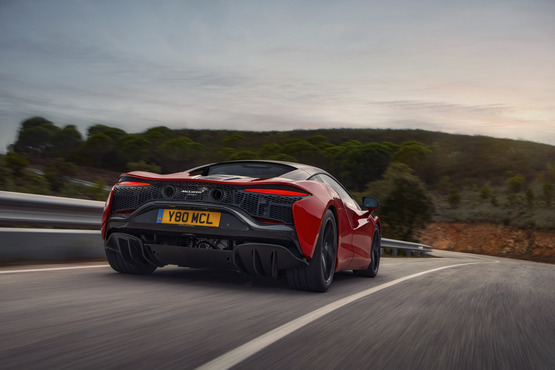 The Artura's drivetrain combines an all-new 585PS twin-turbocharged three-litre V6 petrol engine with a 95PS electric motor to deliver claimed acceleration to 62mph of three seconds, 124mph in 8.3 seconds and 186mph in 21.5 seconds.
McLaren claims that the Artura is its "most fuel-efficient" car ever, having delivered 50+mpg fuel economy and 129g/km CO2 emissions in the combined WLTP test cycle.
Its 7.4kWh battery supports an 18.6-mile zero emissions electric-only range.
The Artura can be charged to an 80% charge level in just 2.5 hours with a standard EVSE cable and the batteries can also harvest power on-the-go from the combustion engine during driving, tailored to the driving mode selected.
Chief engineer, Geoff Grose, said: "From the very beginning of the project, designing and engineering the Artura has been all about challenging ourselves to innovate, pushing and pushing to achieve everything we knew a next-generation, High-Performance Hybrid McLaren supercar had to be.
"As a result, the Artura is all-new; the carbon fibre monocoque, electrical architecture and the body and interior are new.
"So too is the V6 engine, the transmission – which also integrates a new type of electric motor for the industry – as well as the rear suspension concept and our first-ever electronic differential."