Park's Motor Group has officially opened the doors at its new McLaren Automotive supercar showroom facility in Leeds – after 17 months trading from a temporary facility.
The AM100 retail group, whose McLaren dealership in Glasgow was named as the British supercar brand's European Retailer of the Year for the third time in four years back in March, welcomed visitors to its new site on Aire Valley Drive, Leeds, yesterday (October 2) at an event which saw the dealership packed with classic McLaren cars.
It also marked the completion of a development which saw the dealership's workforce operate from a temporary facility after the franchise point joined the McLaren network in May, 2018.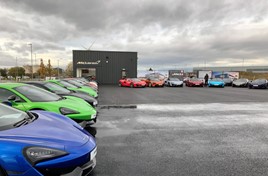 Last November Ross Park, director, Park's Motor Group told AM that Park's Motor Group director Ross Parks has said that the business' performance with its McLaren Automotive was "exceeding all expectations" as it prepared to start development of the new supercar showroom in Leeds.
Celebrating its opening this week, he said: "The stunning new McLaren Leeds showroom and servicing facility is a fantastic setting for our cars and it's great to see McLaren cars past and present gathered, including the new GT and McLaren Senna GTR, both of which are now in production.
"With the McLaren Composites Technology Centre also located in the region, Yorkshire is fast becoming our second home and I'm sure McLaren Leeds will be making sure that our cars become a familiar sight on Yorkshire's wonderful roads in years to come."
Park's Motor Group assembled an array of McLaren supercars for this week's showroom opening.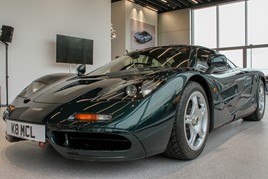 Among them was the F1 'XP5', a three-seat car that set what was then the top speed record for a production vehicle of 240mph in 1998.
It was joined by a McLaren P1TM, billed by McLaren as "the world's first hybrid hypercar"; a McLaren Senna and the new McLaren Senna GTR, the most extreme car yet from Woking, and the quickest track McLaren outside of Formula 1.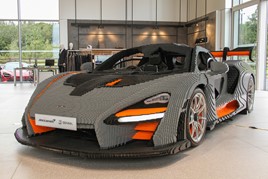 The display also featured a life-sized McLaren Senna built from almost half a million LEGO bricks in just under 5,000 hours.
In addition to McLaren's most extreme cars, the brand's F1 pedigree was represented by a show car of last year's Grand Prix challenger, the MCL33, resplendent in Papaya Orange and Vega Blue.
The new dealership site's workshop area was used as an additional display space, featuring a McLaren Special Operations (MSO) 720S and a carbon fibre-themed 675LT Spider.
Yorkshire has become a key UK region for McLaren, which has recently opened the McLaren Composites Technology Centre (MCTC) in Sheffield.
McLaren Automotive's managing director for Europe, David Gilbert, spoke to AM about the group's franchised network plans during an open day at the facility last November.
This MCTC will innovate and manufacture the carbon fibre chassis 'tubs' that form the heart of every McLaren car and, appropriately, the McLaren Leeds servicing area display was completed by a 720S chassis structure.
The opening of McLaren Leeds was attended by Rob Melville, McLaren's design director, who hails from the region.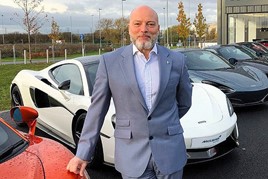 Speaking to AM last year, Mark Ballance, general sales manager at the new McLaren Leeds facility, who was also at the event, said: "The opportunity to oversee operations at a completely new dealership is something that doesn't come along, especially with such a young and upcoming brand and a family-run business.
"One of the key things for me was getting the aftersales operation up and running, because we know there are McLaren customers in the area who previously had to travel to Glasgow, Manchester or Birmingham.
"The other thing was raising awareness, but there is a very clued-up customer base here and as soon as we set up the temporary facility, we had a steady flow of two or three people a day coming in and introducing themselves to me and Nick (Strong, McLaren Leeds sales executive and a former JCT600 colleague of Ballance's)."
Alex Long, managing director Europe, McLaren Automotive, said: "We are delighted and honoured to be chosen by McLaren to fully open our second retailer location with Leeds joining McLaren Glasgow in our portfolio.
"It is a fantastic recognition for our hard-working team in Glasgow who have achieved consecutive McLaren Global Retailer of the Year awards so the bar is naturally set very high for our new team in Leeds.
"It also represents our first automotive retail business south of the border and it's an exciting time for everyone at Park's Motor Group.
"Whilst we have been operating from a temporary showroom, it is exciting to now be operating from our wonderful new retail facility"