Nissan has officially opened order books for its new Ariya flagship electric vehicle (EV) – with prices starting from £41,845.
Four versions of the SUV – Advance (63kWh), Evolve (87kWh), e-4ORCE Evolve (87kWh) and e-4ORCE Performance (87kWh) – will be available at launch, with first deliveries expected to take place in summer 2022.
The entry-level, front-wheel-drive 63kWh Advance offers a zero-emissions range of up to 223 miles.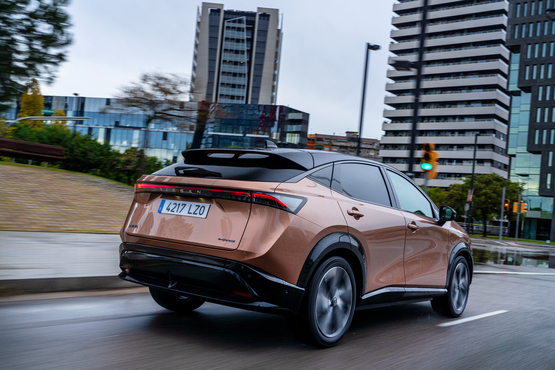 Front-wheel-drive derivatives with the 87kWh offer the longest range – up to 310 miles – while the range-topping, £58,440 all-wheel-drive e-4ORCE Performance 87kWh model claims to be capable of up to 248 miles.
Among the features of the e-4ORCE Performance is a 10-speaker Bose sound system, a digital head-up instrument display, a panoramic sunroof, and Nappa leather seat fronts.
In a recent AM manufacturer profile feature, Nissan GB managing director Andrew Humberstone cited the launch of the long-awaited EV follow-up to the Nissan Leaf, and the 2021 Nissan Qashqai, in stating: "Post-Brexit, post-COVID, we're at the right time in the right place with the right new product."
Last month Nissan revealed plans to launch 15 electric vehicles (EVs) by 2030, as part of its Ambition 2030 strategy.
It plans to introduce 23 new electrified models - including hybrids - within the next 10 years as part of a goal to be carbon neutral across the life cycle of its products by fiscal year 2050.
Commenting on the opening of Ariya order books, he said: "We are thrilled to be opening pre-orders for our 100% electric crossover – the all-new Nissan Ariya. This cutting-edge EV represents the confidence and dare-to-do ambition of the Nissan brand."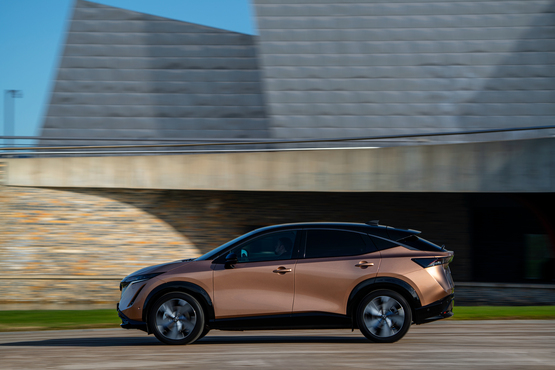 He added: "We're taking over a decade of experience in leading the market with electric vehicles and ensuring our customer-focused expertise and network capability delivers a model that's as rewarding to own as it is to drive. We know that UK customers are going to be seriously impressed with the new standards Ariya will bring to the segment in 2022."
Nissan said that CAP HPI has awarded the Ariya a class-leading residual value position.
Both the front-wheel-drive Ariya Advance 63kWh and AWD Ariya e-4ORCE 87kWh are expected to retain 57% value over 3years/30,000miles.
As a result, personal contract purchase (PCP) offers start from £629 monthly payment on the expected best-selling 87kWh version, with 5.81% APR, and £6,616 customer deposit over 37 months with 10,000 annual mileage.