Citroën UK has announced the pricing and specification of its tiny Ami electric vehicle (EV), with the entry-level version on sales from £7,695.
Three trim levels will be available across the model range of the Ami, which is officially referred to as a quadricycle rather than a car, alongside a My Ami Cargo commercial vehicle (CV) version.
The full-EV Ami's 6kW electric motor allows the new model to reach a top speed of 28mph while its 5.5kWh battery delivers a range of up to 46 miles and can be recharged in just three hours, according to Citroën UK.
Even UK versions of Ami remain left-hand drive, with the Stellantis-owned French brand asserting that this is an advantage in its urban application as it "allows the driver to exit the vehicle kerbside when parking at the roadside".
Franchised retailers may not be charged with explaining that and other features, however, as the first port of call for Ami customers will be Citroën's dedicated Ami digital platform where over 2,000 £250 deposits have now been placed since order books opened last September.
Despite the online route to market, retailers will hand over vehicle to Ami customers.
In September last year a Citroën spokesperson told AM that its franchised dealers would play an "important role" in sales.
Commenting on the Ami's imminent arrival in the UK, Citroën UK managing director Eurig Druce said: "I'm thrilled that we're able to announce UK pricing and specifications for the Ami 100% electric and My Ami Cargo.
"These exciting new quadricycles showcase the way the Citroën brand brings innovation, electric mobility and clever design to the widest possible range of people, offering customers a radically different take on urban transport.
"What's really exciting is that we are launching Ami in the UK due to huge demand from the public – it's a perfect example of our 'Power to the People' thinking."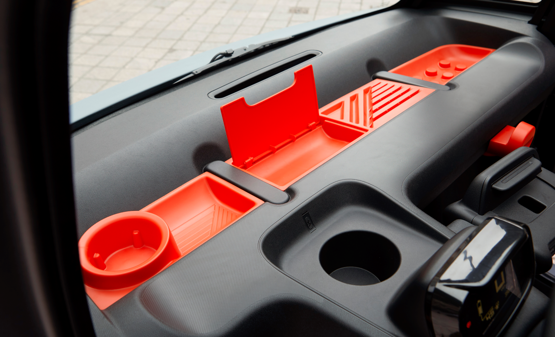 Standard on all Ami models is a digital speedometer, LED front and rear lights, a panoramic glass sunroof and a USB charging port.
Customers can also add one of three £400 Colour Packs – Orange, Blue or Grey – which are designed to fitted at home and include: colour-coded wheel trims, rear pillar decals, dashboard storage boxes, a dashboard bag hook, door capsules, storage nets and floor mats.
The 'Ami Pop' (£8,495) trim level combines the Orange Colour Pack with black trim on the Ami's exterior, a black rear spoiler and orange decals surrounding the door capsules featuring a number '2' design.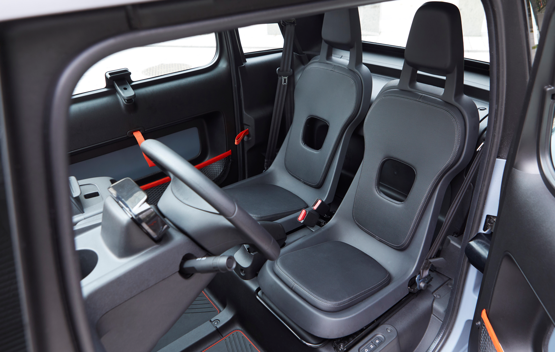 The 'Ami Vibe' (£8,895) features the Grey Colour Pack and black detailing, while adding two decorative black roof rails, black wheel arches and 'Contours' decals on the doors and front wings.
Designed for short distance or last-mile deliveries, the My Ami is priced at £7,995 and features a modular storage area in the place of a passenger seat.
This can be configured for a range of business needs and consists of a modular upper surface (featuring a unique 'mobile office' layout), a divider between the driver and cargo areas, a modular cargo floor with two positions, and a lidded box in the rear creating 260-litres of storage space.
Coupled with the interior storage already present on-board, My Ami Cargo offers a total load capacity of 400-litres, Citroën said.