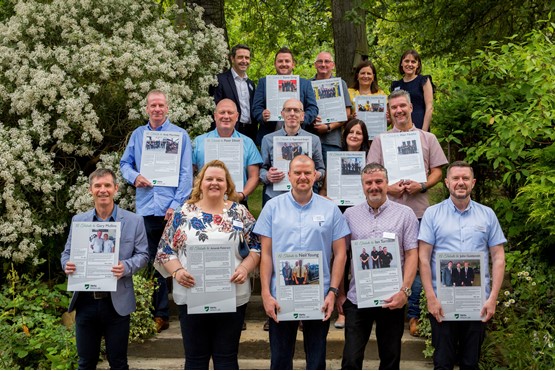 Vertu Motors has recognised 82 of its longest-standing colleagues, who have a combined 2,100 years of service at the automotive retail group.
At five events across the country, senior management including chief executive of Vertu Motors Robert Forrester, David Crane, chief operations officer and Karen Anderson, chief financial officer acknowledged their loyalty and hard work.
Forrester said: "It is the outstanding people we employ that make the company the success it is. Colleagues who have worked for decades at their dealerships offer customers, and their fellow employees, so much and I am delighted to celebrate the achievements of 82 colleagues who have shown incredible commitment and loyalty."
Colin Yates, sales driver at Bristol Street Motors Ford Stoke, celebrated 55 years' service and several colleagues have reached the 40-year milestone.
Peter Elliott, divisional aftersales director, started with the company as a technician thirty years ago, and John Goldsmith who works at Vertu Honda Sunderland began his career as a valeter. Twenty years later he is now one of the top three sales executives in the Honda division.
Vertu Motors trades under the Bristol Street Motors, Macklin Motors, Vertu Toyota, Vertu Honda, Vertu Volkswagen, Vertu Mercedes-Benz, Farnell Jaguar Land Rover and Hughes Group brand. It was formed in late 2006 to acquire and consolidate UK motor retail businesses.
In 2017, the Group became the first major UK motor retailer to offer customers the ability to purchase a used vehicle entirely online with the launch of Bristol Street Motors Buy Online, this was followed by Macklin Motors Buy Online. The platform enables customers to buy a used vehicle in as little as five minutes if they have the funds in place, arrange financial packages if they don't, and have the vehicle delivered to any UK mainland home address.
Picture caption: David Crane, chief operations officer and Karen Anderson, chief financial officer of Vertu Motors join some of the colleagues celebrating long service