The National Franchised Dealers Association (NFDA) has been celebrating the success of the third Drive My Career 'Apprentice Takeover' campaign run across social media.
Aiming to raise awareness of apprenticeship opportunities across the automotive retail sector during National Apprentice Week 2021 (February 8 to 14), the initiative used the hashtag #DMCApprenticeTakeover to achieved 180 mentions and more than 500 interactions – reaching over 650,000 people.
NFDA chief executive, Sue Robinson, said: "Following such a difficult year, it was extremely positive to see franchised dealers endorsing their workforce and investing into the future generation.
"Reading the inspiring stories of apprentices and seeing their excitement to be part of our industry has been encouraging."
Marshall Motor Group shared 31 pictures, videos and stories from apprentices, their mentors, aftersales managers as well as the group's chief executive, Daksh Gupta, during the Drive My Career 'Apprentice Takeover' campaign.
Also, a number of videos featuring current and former apprentices working for Sytner contributed to significantly raising the profile of the campaign and apprenticeships in general, according to the NFDA.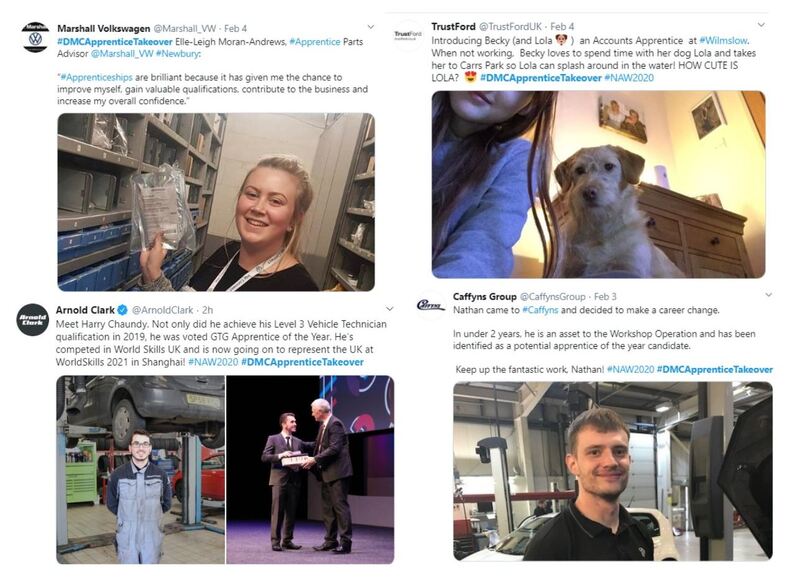 TrustFord, JCT600 and Caffyns were also among the AM100 car retail groups to take part in the apprenticeships push.
Drive My Career is the employment platform launched by the NFDA in 2018 to make the motor retail sector more attractive to young jobseekers and connect potential candidates with their local retailers.
During National Apprenticeship Week, Drive My Career also provided CV and job interview tips for anyone in the audience to help on their career journeys.
The NFDA said that Drive My Career is currently supporting its members who are actively recruiting, while it continues to also promote via the website success stories, career guidance and additional tips for jobseekers through targeted campaigns.
Robinson said: "Drive My Career will continue to raise awareness of the rewarding career opportunities available in the automotive sector.
"A huge thank you to our members for their continued, outstanding support."