Cox Automotive Europe chief operating officer Pete Bell covered 100 miles on his bike as he lapped Bruntingthorpe Proving Ground as part of a '100 for £100' charity challenge.
Bell completed his challenge under sunny skies yesterday (May 28) as part of Cox's group-wide initiative to raise funds for critically-ill children.
The remarketing, funding and market intelligence provider has set employees the task of completing a task related to the number 100 as part of its Manheim at 100 celebrations in an effort to raise funds for the Make-A-Wish foundation over the next two years.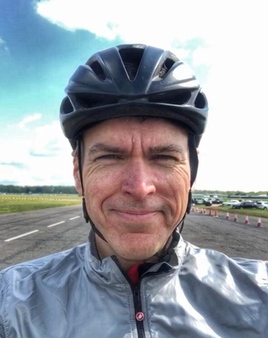 And while pedal-pushing Pete claimed that his cycling challenge "Fortunately, wasn't too bad", Cox asserted that its COO had "set a fine example to us all".
Bell's efforts have helped to boost the Cox's 100 for £100 fund-raising more than £5,800 to date.
A statement issued by Cox said: "It is an amazing charity that truly makes a difference to the lives of critically-ill children across the UK and Europe, and we're hoping to raise a significant amount of money to help as many children's wishes come true.
"Make-A-Wish UK grant magical wishes to enrich the lives of children and young people fighting life-threatening conditions.
"Granting their wish provides seriously ill children with hope for the future, strength to cope and resilience to fight their condition.
"They're given quality time away from the daily realities of living with their condition and given the chance to make magical memories they can treasure forever – whatever their future may hold.
"We want to transform the lives of 1,000 children this year by granting their One True Wish."
To sponsor Pete Bell's charity efforts visit his Just Giving page.
On June 25 Cox Automotive will launch its 'Climb Every Mountain' initiative to drive its fund-raising for the Make-A-Wish Foundation further still.
The initiative will see Cox Automotive team members across the globe raise money for Make-A-Wish Foundation by walking 24,000 steps in 24 hours.
Bell said: "As a family-owned company, it's great to see our passion for doing the right thing seen by all team members working to support their local communities.
"All our team members are incredibly excited to be part of a joint international effort to support the charity, becoming a #WishHero and holding their own fundraising activities, where plenty of activities and achievements will be seen.
"Some of our team members at Cox Automotive have received support from the charity in the past, so it's great that we can give a little back to support the tremendous work that that the organisation does, enabling Make-A-Wish to continue carrying out as many wishes as possible for critically-ill children."