Winchester Motor Group has celebrated its 2021 Stand Out Performers from across the group during an award ceremony.
Winchester Rugby Club played host to the event which featured the inaugural presentation of the 'Lynne Mills-Goodlet Overall Performer of the Year' award, named after the former group director who recently passed away due to breast cancer.
Fleet sales manager Andrew Evans was the first recipient of the new award for his continued dedication to the business.
Against the backdrop of COVID-19 lockdowns, Evans led his department to an outstanding financial result, the group said.
Having worked for Winchester Motor Group for nine years, Evans has developed the fleet department from scratch into an outfit selling cars nationwide with a current order bank of over 500 cars. Evans also received a weekend break for two in the west country, for his achievement.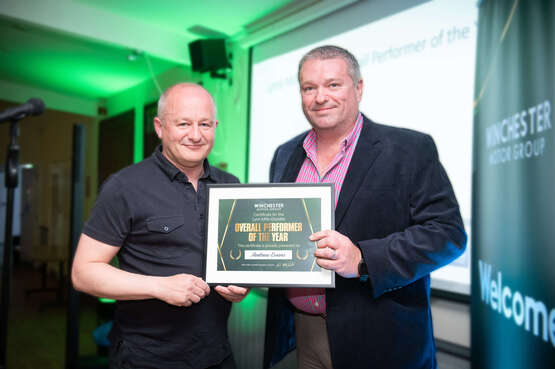 Managing director, Mark Mills-Goodlet, said: "It is a special occasion to see our colleagues all together again and especially to be able to reward our Stand Out Performers.
"Naming our main award after Lynne is a great honour and very special for everyone in the company. She was well loved and is missed by everyone who knew her.
"Everyone's contribution to the business is crucial, but especially those that have made an extra effort to increase our customer service levels.
"I'm sure Andrew will represent his award in the manor to which Lynne would be proud and that everyone will work towards winning their category next year."
Lookers recently celebrated the achievements of its best-performing staff as part of a company-wide event in Paris to mark the return of its annual Excellence Awards.
MotoNovo Finance also recognised three dealers who have gone the extra mile in the last year, at its annual Extra Mile Awards.
Winchester Motor Group's other Stand Out Performers of the Year winners were:
Winchester Aftersales Department - Josiah Crowley
Garland Aftersales Department - David Potter
Administration Functions - Judith Soan
Used Car Centres - Josh Claridge
Winchester Sales Department - Paul Angel
Garland Sales Department - Rebecca White