Robins & Day has recognised its longest-serving employee, who has clocked up 55 years of service with the Peugeot brand.
Paul Neale joined Peugeot aged 16 and has held numerous roles within the company's parts department during his career.
For the past 13 years, Neale has worked as a warehouse operative at Robins & Day Parts North-West in Manchester.
To celebrate his many years of service, Paul was visited by James Weston, Robins & Day chief executive, Simon Tarrant, Robins & Day aftersales director and Mark Pickles, Stellantis UK's parts and service director, who all thanked him for his continued dedication and tireless efforts to deliver a high-quality aftersales service.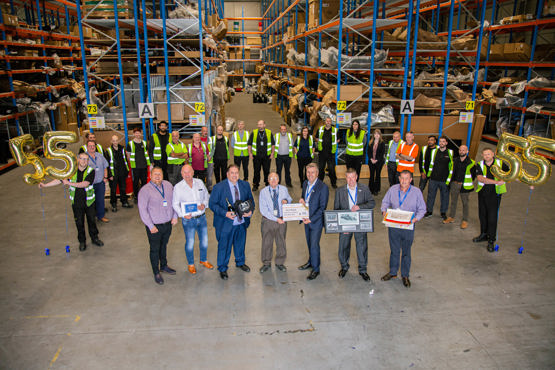 Neale said: "I've thoroughly enjoyed my time with the company so far and have always felt rewarded throughout the last 55 years, so it's fantastic to receive this recognition of my service. I started with PEUGEOT all those years ago – it's a great brand and I've enjoyed watching it evolve over the years – it's nice to be a part of such a forward-thinking company, especially as it moves towards electrification."
Over the years, Neale has experienced first-hand how the automotive world has adapted to technological and social changes. He has owned more than 15 different Peugeot cars and is currently the proud owner of a Peugeot 208 GTi by Peugeot Sport. His favourite historic car is the 405 Mi16, but for his all-time favourite Peugeot he's unable to look past the current line-up – including the all-electric e-208 and e-2008.
Pickles added: "55 years with the same company is an achievement that Paul should rightly be proud of and shows real commitment. I'd like to thank Paul for his hard work and long service, and hope he continues to share his infectious enthusiasm for the brand for many years to come."
Robins & Day recently expanded its portfolio to reflect the variety of brands now held by Stellantis. The OEM-owned brand adopted its first Fiat and Abarth sales and service sites, in April.
The addition of Fiat and Abarth to the two sites comes shortly after Robins & Day and Stellantis announced its new group name of Robins & Day by Stellantis & You UK marking a step towards alignment between the two brands.