Dealer management system provider CDK Global is reaching the end of a two-week partner roadshow which it hopes will ultimately lead to efficiencies for dealer staff.
Alistair Jeff, head of the CDK International Partner Programme, said there are 17 partners already contracted, of which nine are in the UK currently.
The DMS provider is in "good conversations" with about 50 more firms, and expects these to lead to signing up another 10 to 15 partners in the next few months.
"They're great conversations. They're all around the external workflows outside of the DMS, where they crossover the DMS, so they've got the opportunity to do those integrations to assist the dealership in saving time, effort and increasing the accuracy of the data," said Jeff.
Dealers have historically had to re-key data gathered in third party showroom systems into their dealer management system, which has been time consuming and has risked errors creeping in.
The purpose of the roadshow has been to connect with other automotive software suppliers, showing the new direction of CDK in that it is willing to collaborate and be more open in working with partners.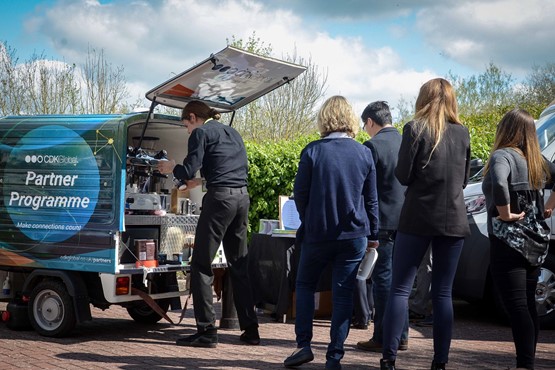 A CDK team, including its UK senior management, has been touring with a branded refreshment van and a camera crew to meet with partners at all levels, from developers to business owners. Partners visited include 8 Technology, Autino, AutoVHC, eDynamix, Force24, Motor Document Solutions and Sales Master, where AM joined them for a morning.
Stuart Miles, managing director of CDK Global UK, told AM: "The partner programme is still relatively in its infancy, and a big part of these two weeks is to learn from what our partners experienced in the early days and understand how we can improve it, and make it even more seamless for the end user. How can we make it easier for our customers to do business with their customers."
Miles said around 360 of CDK's UK customers are already getting the benefit from its partnerships, and this will increase as more partners come on board. He said he's keen to hear from CDK customers about any areas of process or systems which they are using and which ultimately would benefit from involvement in the partner programme.
Many customers still see the DMS as core to how the business functions, he said, so the DMS must be open to exchanging data and providing customers with choice.
Michelle Mays, marketing communications director, added: "This roadshow is getting the word out there that the programme exists, people have been enjoying it and partners finding coming on board a good experience. We want to get more partners.
"You can't connect the motor retail industry until you're able to build more connections, so yes there are dealers seeing the benefit today but in the longer term hopefully this will exponentially increase as more partners sign up."