Daimler and Volkswagen-backed online used car retail marketplace Heycar has launched in the UK with a dealers stock of over 100,000 vehicles available for consumers to browse.
Originally funded by Volkswagen and operated in the manufacturer's German home market, Daimler bought into the Auto Trader and carwow rival a year ago and now the business has entered the UK market with an aggressive launch strategy which sees retailers offered marketing support for free.
Speaking to AM, chief executive Mat Moakes said: "The platform will be funded on a lead-by-lead basis but, for now, the service is completely free and we're looking for dealers to get on board and trial the system first and foremost."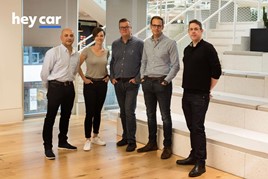 Moakes, who previously led the team behind Centrica's Local Heroes platform to help homeowners source tradesman to assist with home maintenance, described Heycar as a "corporate start-up" which was building a team of experts with online listings, technology and automotive sector knowledge to create a platform that will "demystify" the used car buying process for consumers.
He said that the finance offer is a USP of the new platform, allowing users to search for and find their used car, complete with a finance quote, in a seamless online journey.
Karen Hilton, formerly carwow's commercial director, will be central to the management of dealer relationships in her role as chief commercial officer.
Heycar currently has over 1,400 dealers registered and all listed vehicles come with a warranty, are less than eight-years-old and have less than 100,000 miles on the clock.
Asked about the opportunity presented by an online used car sales marketplace now populated by the likes of Auto Trader, carwow, CarGurus, Motors.co.uk and soon Cazoo, Moakes cited the Society of Motor Manufacturers and Traders' (SMMT) valuation of the UK used car industry at £50bn and the UK used car finance point of sale market being valued at £17.6bn by the Finance and Leasing Association.
He said: "There is enough scope in the market to accommodate new competitors like ourselves and, while I have every respect for the likes of Auto Trader and the job they do, we do want to offer something different and claim a part of the market."
Speaking at the Heycar launch event in London this morning (August 14), Moakes said: "Buying a used car can be like a lottery, you don't know what you'll get.
"Existing websites are often cluttered with ads, eroding consumer trust. Dealers are burdened with rising fees for listing used cars online, which squeezes their margins without a guarantee of leads or sales being generated.
"We've developed Heycar to solve these pain points. We'll offer a simpler, more effective solution for both used car buyers and dealers.
"Our site will be ad-free, improving transparency and consumer trust.
"Heycar won't charge dealers a listing fee, encouraging them to display all of their best quality stock. After the launch phase we will charge on a lead-generation basis to guarantee a win-win situation for our dealer partners."
Since launching in Berlin in October 2017, Heycar has built up an inventory of around 400,000 quality used cars from over 4,000 dealerships in Germany, making it one of the top players in the German market.
Heycar is a brand owned by Mobility Trader Holding GmbH, whose shareholders are Volkswagen Financial Services and Daimler Mobility.