Our new December 2020 issue of AM magazine is out now here with vital insights into January's FCA motor finance changes and a study of lockdown 2's impact on car dealers.
As motor retailers prepare for more stringent finance commission disclosure rules, finance companies reveal how they're adapting and helping their dealers prepare.
The new AM magazine also includes insights into how Rainworth Motor Group plays a prudent game, Vertu Motors aims to "retain sales this time around", and why Tesla has strengthened its foundations in the UK.
And Kia's commercial director Simon Hetherington talks about the importance of hybrid in its flagship SUV, the new Kia Sorento.
I've been impressed in this latest lockdown. Not by the way the UK generally seems to be close to where we were in April, but by the way many motor retailers have been able to quickly adopt online trading and click-and-collect.
Although sales volumes will be down of course, more staff have remained working and business leaders have learned from the spring experience and been ready to try new solutions. Adapting and evolving have been the keywords of 2020.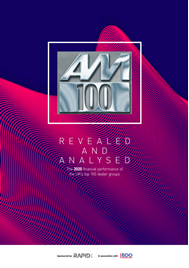 This is an industry built to serve consumers, and one that has been challenged to churn them into newer, lower emission cars more rapidly than many expected. And as a sector where margins are skinny and overheads considerable, sitting still is not an option.
You've hopefully noticed by now that AM hasn't sat still either. Our Automotive Management Live show has gone virtual, and will now be on January 20 and 21 to steer clear of the end of lockdown.
We've just held a successful AM100 webinar in partnership with BDO (see the AM100 supplement for all the AM100 insights), and in 2021 we'll be bringing you more virtual events and webinars plus the AM and Armchair News Show podcast in partnership with Armchair Marketing.
The COVID lockdowns may have accelerated digital change in motor retail, but they've also proven we can all adapt.