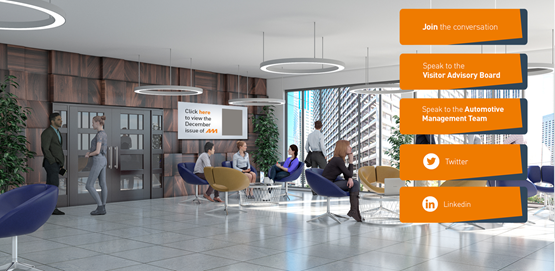 This week's Automotive Management Live Virtual event has been developed to ensure motor retailers get 2021 off to a great start.
The virtual event, which runs on Wednesday and Thursday this week (January 20 and 21) in partnership with the National Franchised Dealers Association, will share learnings and case studies from more than a dozen UK motor retail groups and numerous industry expert suppliers.
In total AM Live Virtual will feature 18 seminar sessions offering visitors insight, advice and guidance to improve their strategic planning and their day-to-day operations.
This preview was first published in AM magazine here.
Attendees will also be able to meet in the virtual networking lounges, quiz the experts in their live Q&A sessions, view virtual stands and arrange private virtual meetings without needing to go anywhere.
AM Live Virtual is only for dealer and vehicle manufacturer personnel.
To get into this insightful automotive event for free, register in advance here.

WEDNESDAY, JANUARY 20 SESSIONS
AM100 group Marshall's hopes and priorities for 2021 – interview with chief executive Daksh Gupta
Interviewed by Tom Sharpe, AM news and features editor
(Sponsor – CDK Global)
Connecting the ecosystem; making automotive commerce faster, better and smarter
Presented by CDK Global, CitNOW, GForces, LSH Auto UK and Group 1 Automotive UK
(Sponsor – CDK Global)
Leadership in a virtual world
Presented by Dr William Holden, chairman of Sewells and Katie Saunders, HR director of JCT600
(Sponsor – Real World Analytics)
Insight and reviews drive away the winter blues – Beat the bug and smash your budget in 2021
Presented by Mark Busby, commercial director, Hendy Group, and Neil Addley, founder, JudgeService
(Sponsor – JudgeService)
Jam today: Five habits for sustainably higher aftersales performance
Presented by Karl Davis, Coachworks Consulting
(Sponsor GTechniq)
A post-Brexit economic outlook for UK automotive
Presented by Sarah Noble, director, Deloitte Consulting
(Sponsor – MotorDocs)
The acceleration of digital communications in automotive
Presented by Jeremy Evans, managing director of Marketing Delivery
Sponsor – Marketing Delivery
Renewal and retention: 2021 vision
Presented by Lyn Howdon, head of academy and learning, and Mark Fretwell, commercial director, Chrysalis and Mercedes-Benz of Exeter general manager Richard Golsworthy
Sponsor – Chrysalis Loyalty

THURSDAY, JANUARY 21 SESSIONS
AM100 group Peter Vardy's opportunities in 2021 – interview with chief executive Peter Vardy
Interviewed by Tim Rose, AM editor
(Sponsor – CDK Global)
Saved cost, saved time, saves space – getting digital done
Presented by Neil Maude, director of technology, Arena Group
(Sponsor – Arena Group)
Driving engaging customer experiences
Presented by Alistair Horsburgh, chief executive, CitNOW
(Sponsor – CitNOW)
Motor retail property: Efficiencies now and evolution tomorrow
Presented by Robert Stephens of RS & Co, and Richard Adams of Accendia
Steer your dealership to online success and turn feedback into action
Presented by Phil Capper, enterprise sales manager, Reputation.com
(Sponsor – Reputation.com)
The future of aftersales – how to take market share of the largest vehicle parc in UK history
Presented by Gavin Ruddick, consultant and former aftersales director of Stratstone and Lookers
(Sponsor – Book My Garage)
Dealer sustainability
Presented by Steve Young, managing director, ICDP
(Sponsor – CDK Global)
Connecting with consumers in a digital world
Presented by CarGurus' account directors Dan Delderfield and Nathan Quayle
(Sponsor – CarGurus)
Data powering actionable insights for the automotive industry
Presenter Clive Gosling, head of consulting, Experian Marketing Services
(sponsor – Experian)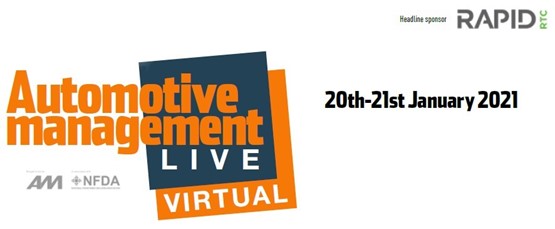 INSPIRATIONAL MOTOR RETAIL LEADERS
Leaders from many successful dealer groups feature in the line-up at AM Live Virtual. Registered attendees can hear from Marshall Motor Holdings chief executive Daksh Gupta, Group 1 Automotive UK's marketing director Jamie Nash, Vertu Motors chief executive Robert Forrester, JCT600's HR director Katie Saunders and Peter Vardy group chief executive Peter Vardy, plus more.

Arena Group and Fujitsu PFU
Digitised deal files, aftersales and paper processes dealership-wide give mstore users an advantage by working flexibility, remotely, efficiently and securely. Recent analysis has shown that mstore has reduced admin time by 33%+, saved £25k per year on paper dealfile costs alone, delivered annual ROI of 1,400% - all significantly impacting the bottom line. Dig deeper with dealership-led case studies at 10 am on day 2 in the seminar theatre followed by an extended Q&A. Visit stand 2 hall 2 to explore going digital dealership-wide, meet experts and claim your tech goody bag. You could also win a Fujitsu scanner! Visit bit.ly/GetDigitalDone for information and updates.
BookMyGarage SecretService
SecretService makes it viable to take market share of the largest UK vehicle parc in history (accessing and unlocking the true potential of Segments 2 & 3). Partners can expect 70% of bookings to be conquest customers, achieving an 85% uplift from booking to final invoice values. A minimum 200% ROI is guaranteed, and you'll automatically take even more market share when achieving 300%+. WhatCar? is now sponsoring the first three months' fees for all new partners (deadline February 28). SecretService enables you to transform your aftersales profitability, levelling the playing field with independents and fast-fits and restoring your absorption performance. To find out more, visit our virtual stand.
CarGurus
It's hard to overstate the impact COVID-19 has had on the UK market – on consumers and businesses in general, and on car buyers and dealers specifically. CarGurus' presentation, entitled 'Connecting with consumers in the digital world', will provide some valuable insights from its industry experts on how best to innovate your dealerships' approach to selling digitally. It will discuss some of the consumer trends and deep dive into the data, so you are armed with the facts on how to adapt and connect with buyers in the changing consumer landscape.
CDK Global
This year's event might be virtual, but you can still join CDK for a coffee! Register in advance to view any of its latest solutions, and the company will send you a coffee
e-gift card to enjoy. Discover how its solutions can truly connect your dealership. www.cdkglobal.co.uk/amlive
Day one highlight
Join CDK and expert retailers and partners who will discuss and debate how we connect the ecosystem to make automotive commerce faster, better and smarter.
Day two highlight
A keynote session on dealer sustainability. The future profitability of franchised dealer networks is dependent on the evolution of the traditional business model.
CitNOW
With consumer behaviours constantly shifting, businesses worldwide are helping to shape the next 'normal' - with digitisation at the forefront. Visit CitNOW's virtual booth at hall 1, stand 3, to download its latest content piece, launching exclusively at AM Live, to discover its new consumer and industry research findings. CitNOW explores the 2020 catalysts for the 'new age' of retail, the impacts this has on customer sentiment and buying behaviours, and what you can do to meet evolving consumer needs.
It will also be sharing fresh insights live during its presentation, 'Driving engaging customer experiences', at 10:45 on January 21. Join CitNOW as it explores how video can be used to drive engaging and emotional connections. CitNOW will be on hand via live chat throughout the two days to answer all your questions or to arrange a product demonstration with one of its experts. It looks forward to 'seeing' you at AM Live.
Gtechniq
Gtechniq claims global leadership in ceramic and other durable surface coatings. It says that Platinum offers a scientifically tested, nano-based system of protective
treatments that outperform anything else. In 2001, Gtechniq was formed out of dissatisfaction with aftermarket surface protection products for cars. Advances in chemical nanoengineering, combined with a rigorous laboratory and real-world testing regime, has allowed Gtechniq to create a range of innovative products that are continually improved for maximum performance.
JudgeService
JudgeService Research is back! As specialists in automotive industry insight and customer reviews, it aims to help businesses manage their online reputation and improve satisfaction scores. JudgeService enables businesses to identify weaknesses and strengths using its expert customer research analysis and provides valuable data for your benefit. The research company says it is really looking forward to being able to showcase its products and services at AM Live in January, and it hopes you take the time to stop by its virtual booth to have a chat with the team and order your annual dose of JudgeService Pick 'n' Mix!
Marketing Delivery
Marketing Delivery will be showcasing the technology being used to keep dealerships in touch with their customers digitally. With case studies and insight from consumer research, Marketing Delivery will be demonstrating its new messaging platform, data integrations with DVSA, CDK and others plus showing how Facebook advertising works for dealers. Automating many dealer data and messaging functions in an era of lean staffing numbers, the company will be showing how to "digitally triage" customers and prospects to successful interaction in the sales and aftersales areas.

MotorDocs
MotorDocs is committed to helping dealers transform performance through innovative and intelligent digital document solutions. It claims to lead the way in developing cloud-based platforms that improve efficiency, compliance, profitability, customer experience and environmental impact. By introducing the full suite of MotorDocs products, sales and service departments can remove large volumes of paperwork from the dealership and introduce digital document workflows. By seamlessly collating information from multiple sources, it helps them unlock powerful business intelligence, realise immediate cost savings and enable a contact-free customer experience. Its award-winning iDealFile platform is in high demand – transforming post-sale efficiency and intelligence at more than 400 locations across the UK. MotorDocs' iServiceFile platform offers the same benefits to service and repair teams, with a specific focus on supporting more warranty approvals. Contact its team on 01635 905985 or visit it at AM Live 2021 to see how its products can help you unlock the positive commercial benefits of fully integrated intelligent digital document management.
Profit Box
Heading up the digital sales creek without a paddle? COVID has taken consumer buying behaviours to a different landscape. Visit stand 10 in hall 1 and take ProfitBox's 60-second digital sense check to see if your sales teams are appropriately skilled or using yesterday's skills and philosophies with tomorrow's buyers?
RAPID RTC
RAPID RTC is a multinational digital communications company that specialises in automotive, serving 4,000 retail and manufacturing clients around the globe. Its focus is on improving businesses' digital communications and customer engagement practices by seamlessly connecting online shoppers in real-time, using their preferred channel, with salespeople who are not busy with showroom walk-ins. Rapid RTC's brand promise is to bring value to its clients by placing their customer at the core of everything it does. Through the right mix of technology and human interaction the company ensures a premium omni-channel customer experience throughout the online purchase journey. RAPID RTC is headquartered in Winnipeg, Canada, with offices in Toronto, Paris, London and Dallas. It is part of the DMT Group of companies which was founded in 1996 and is privately held.
RealWorld Analytics
Real World Analytics provides a cloud-based business intelligence (BI) solution that helps you become a complete data-driven dealer group. By bringing all your data into one place and delivering actionable insights to different levels in the business, everyone has the right information at the right time to do their job efficiently. The management will be presented with executive dashboards where they can drill down to the details for further investigation. Your managers in the outlets get reports such as DOCs delivered to them automatically so they can action issues on the spot. The solution is designed to help you stay on top of your business with all the information you need at your fingertips. To find out more, visit our stand at AM Live Virtual for a FREE Data Audit.
Plus:
Chrysalis Loyalty
Diamondbrite
Experian
mstore
Reputation.com