The 2021 AM Awards are open for entries, including new categories aimed to reflect UK motor retail's adoption of electric cars.
This year we have added new AM Awards for Electric Vehicle of the Year and Best EV Dealership.
The Best EV Dealership category seeks entries from individual dealerships that are making a real success of sales of electric cars and/or electric vans, so get onto AM-Awards.co.uk now and start filling in that entry form..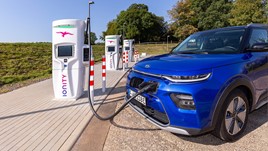 Like with our existing retailer categories such as Best Sales Team, Best Used Car Dealership and Best Dealer Group, the received entries will be audited by AM Awards partner BDO before being pored over by AM's panel of judges, overseen by independent chairman Christopher Macgowan OBE.
The EV of the Year award will be decided by a combination of AM reader and judging panel votes, similarly to how we decide the Used Car of the Year and New Car of the Year awards.

Normally held each February, this year the AM Awards is shifting to September 8th when we'll be able to gather together at the vast Birmingham ICC for a gala awards dinner – socially distanced as necessary.
The 2021 AM Awards Categories that are open to entries now...
For individual site/dealership entry:
Best Aftersales Team* - Open to franchised workshops and independent repairers, entrants will have high performing teams of service reception, workshop control and technical staff who deliver great returns for the dealership.
Best Sales Team (new and/or used)* - This award acknowledges the power of multiple individuals working together towards an acknowledged goal in a new and/or used car or van sales department in the last 12 months.
Dealer Principal/General Manager of the Year - The winner will be a dealer principal or general manager who has done incredible things with difficult brands or marketplaces by demonstrating excellent leadership skills, drive and innovative thinking that has helped the dealership achieve business objectives.
Best Used Car Dealership (independent non-franchised)* - Retailing second-hand cars demands many skills and processes, from stock acquisition to marketing and protecting profit margins. Independent dealerships that show strength in many such aspects should enter.
Best Used Car Dealership (franchised)* - Pre-owned cars will not be the poor relations for the franchised dealership keen to win this award. Entrants should evidence strength in stock acquisition and preparation, marketing, sales and profits.
Best EV Dealership* (NEW) - Outlets that have embraced electric vehicle sales should enter this category, demonstrating their success in developing a strong local market.
Best Dealership* - This category is open to single-site owner operators and to best performing dealerships within a larger group network, to reward strong performance across sales, marketing, aftersales and administration.
Best in Customer Service - Entrants should have a customer-centric culture and take pride in strong satisfaction scores, but never allow complacency and react robustly to fix the situation whenever things go wrong.
For group/company entry:
Best Marketing Strategy - Entries should show how your marketing helps you to build your brand plus find new customers and help you to grow sales in the short term.
Best Online Consumer Experience - Dealers which enter this award category should provide an excellent, comprehensive, customer-focused digital experience for consumers who are searching online for their next car, whether new or used.
Best Dealer Group (up to 10 sites)* - Open to franchised and independent groups. Brand specialists and regional heroes apply here. Entrants should have strong sales and aftersales results, a culture of success and the financial results to show for it.
Best Dealer Group (more than 10 sites)* - Open to franchised and independent groups. Here we recognise great large groups. Entrants should have strong sales and aftersales results, a culture of success and the financial rewards to show for it.
Best Used Car Dealer Group - Open to franchised and independent dealer groups, this award recognises high levels of best practice in used car sales group-wide. Stock management, marketing and financial performance are among the criteria to be examined.
Best Finance Broker/Leasing Provider (NEW) - Open to motor retailers' independent finance and leasing brokerages getting consumers into new or used cars. Entrants should demonstrate how they provide great value and best-in-class service to all they work with.
The Bright Spark Award - This category invites entries about ideas and innovations, no matter how simple or complex, that have come from a dealer's member of staff to make a work process simpler, or save time or money, or solve a problem in some way.
The Community Hero Award - We want to recognise dealerships which are deeply rooted in their communities, which support local causes and organisations, and which have a culture of giving something back.
Apprenticeship Programme Of The Year (NEW) - Open to the automotive businesses which develop their workforce for the future, whether recruiting new starter apprentices or encouraging existing employees onto apprenticeships for higher level qualifications.
For automotive industry suppliers:
Best New Product and Service - Open to industry suppliers who are helping to change dealers' fortunes. We expect to see innovation and measurable results, including examples of beneficial use by your customers.
Supplier of the Year - Open to entries from industry suppliers making a significant difference to dealers' fortunes. Entries will be reviewed and voted upon by readers' and the judging panel.
Put your businesses and your employees forward for the 2021 AM Awards to receive independent recognition of their skills and excellence from our panel of judges.