Car sales platform BuyaCar is facing an uncertain future as sources have informed AM that its owners had been considering closing the business.
The company has responded that it is changing BuyaCar's business model, and roles are at risk of redundancy.
BuyaCar launched in the early 2000s to boost dealers' used car sales with a purely distance-selling operation, and subsequently was bought by media publisher Dennis Publishing, which positioned BuyaCar as a hybrid of both an industry supplier and a retailer, as its business model was to advertise dealers' stock, then buy it once a customer had been found, so that Buyacar then managed the transaction with the customer, including provision of point-of-sale motor finance and delivery of the car to their home.
Dennis Publishing expanded the business, before splitting it off along with its automotive media brands Auto Express, Driving Electric, Octane and CarBuyer into a new company, Autovia, in 2021.
AM has learned that BuyaCar's workforce will begin a redundancy consultation this week; Autovia has not confirmed that the business will close, but says the business will change to a lead generation model.
Such a move puts it closer in line with competition from long-established operations such as Auto Trader and eBay Motors Group.
Autovia chief executive Andy Oldham told AM in a statement:"The impact of COVID-19, combined with the semiconductor shortage and global supply chain issues, has been significant for the UK automotive sector.
"Although we are confident that BuyaCar has a bright future, we have not been immune to its economic impact.
"We have worked hard to reduce our costs and improve operating processes.
"However, we have concluded that the current BuyaCar operating model of selling pre-owned cars and motor finance is no longer viable, and instead, the business will pivot to a lead generation model and seek third party commercial partnerships to deliver scale and revenue growth.
"As a result, we will begin a redundancy consultation process this week.
"We are fully committed to supporting employees in impacted groups throughout this period and ensuring that this process is fair and transparent."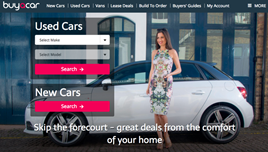 In the height of the UK's first wave of coronavirus Buyacar suspended its delivery charge for online buyers to ensure that key workers could still purchase the cars they needed.
It later claimed it had secured £1.1 million of used car sales within a month of lockdown, while most car showrooms had been forced to close by the UK Government's COVID-19 restrictions.
Its homepage from 2017 shows how it urged consumers to "skip the forecourt" and buy used cars from the comfort of their home.