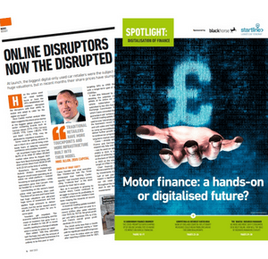 The May Issue of AM magazine is here, packed with the latest news on the digital disruptors, insights into motor finance's digitalisation, and the full citations of all the 2022 AM Awards winners.
Published today in print, and in digital format - here - for free, the May AM magazine also includes a review of the Toyota Aygo X, guest contributions from Professor Jim Saker of Loughborough University, Tara Williams of Autoprotect Group and Anwen Robinson of Infor.
Plus Jonathan Rogan, head of business at Bowker BMW in Preston, shares his views on tackling supply chain issues while keeping staff motivated.
Editor's Letter
It was fantastic to see so many motor retail industry figures in one place at the AM Awards dinner this month.
Let me personally congratulate all the winners of the AM Awards, and also praise all those whose entries were shortlisted by the panel of experienced judges. It's a considerable achievement to get on the finalists list. All are great businesses and individuals.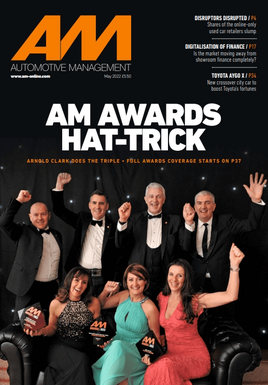 Two of the awards are particular delights for me, personally.
After the uncertainty that Lookers endured under the eye of the FCA until it ended its investigation in 2021, I'm delighted to recognise its new chief executive Mark Raban as Business Leader of the Year for the cultural and process changes he and his team have driven.
And similarly, I'm proud we recognised Andrew Iveson as DP/GM of the Year for his work leading an MBO and securing a future for a dealership whose entire existence was threatened by the exit of Mitsubishi, its partner of 30 years.
I do love our awards evening's ability to celebrate successes and create a positive mood at a time tough conditions prevail.
The industry has plenty to be proud about.