Car manufacturers' websites are disjointed and disappointing consumers, causing poor sales conversion rates and low shopper engagement.
That's a finding from research by Auto Zebra, which works with a number of brands to improve their omnichannel experience, which identified that, in one extreme example, nine sections of one OEM's website were powered by seven different platforms, which resulted in 31 individual customer interaction touchpoints.
"This leads to the customer filling in the same details again and again, losing cars they painstakingly configured when they popped over to read about finance; losing live chat sessions because they went to check the finance offer they've seen on the banner; talking with different agents during the same visit; or just arriving at a dead-end without any obvious means of getting out," states Auto Zebra's report.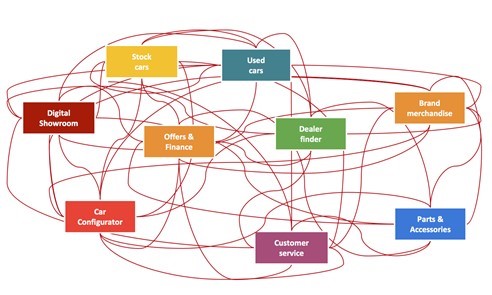 It noted that a typical car brand website isn't a single unified portal but a collection of many platforms, some added over time, each powering a separate section.
These individual projects do not have enough focus on integrating the various platforms into the overall customer journey across the entire website, said Auto Zebra, which developed its Online Readiness Scorecard which rates all UK brands on their omnichannel capabilities against Auto Zebra's assisted selling framework, by taking an external customer perspective of three critical pillars - customer experience, technology and online proposition.
UK market leader Ford was one of the poorest performers, scoring 18.7%. BMW scored precisely as poorly, despite in 2015 being the first brand in the UK to launch new car sales online with its BMW Retail Online service.
Tomas Honz, senior partner at Auto Zebra and author of the Scorecard, said: "Manufacturers could start by designing realistic user journeys that include multiple sections of the website, then support these technically by consolidating the form, sharing user sessions (and information) across the sections and opening all links, in the same window.
"It wouldn't take long and it's not technically difficult, but the outcome will significantly impact customer journeys; reduce the conversion drop-offs; enhance the brand image; and form the necessary foundation for the next stage of optimising the online to sell."
Honz said the majority of the low-scoring websites can be improved almost overnight by implementing a few simple fixes, rather than requiring lengthy major projects.