The 2016 electric automatic Renault Zoe (pictured) was on average the UK's fastest selling used vehicle in July.
It took 18 days to sell, this marks the first time a fully electric vehicle has topped Auto Trader's national top 10 list of fastest selling used cars.
In another unprecedented win for alternatively fuelled vehicles (AFVs), an electric hybrid variation of the Mitsubishi Outlander MPV (2015 automatic) beat petrol and diesel-powered counterparts to become the fastest selling used car in London last month. It took an average of just 12 days leave forecourts.
Petrol and diesel however maintained their market dominance, with diesel proving its ongoing resilience, topping eight of the 13 regions and countries tracked.
Of all the vehicles making it on to the regional top ten lists, 54% were diesel.
There was a particularly healthy demand for used medium and large sized diesels, topping the list in: the North West (2017 Mercedes-Benz E Class – diesel automatic – 22 days)
South (2015 BMW 5 Series – diesel automatic – 16 days)
South East (2017 Ford Kuga – diesel automatic – 21 days)
South West (2015 BMW 1 Series – diesel manual – 27 days)
Wales (2015 Nissan Qashqai – diesel manual – 30 days)
West Midlands (2017 Mercedes-Benz E Class – diesel automatic –21 days)
Yorkshire (2015 Volkswagen Tiguan – diesel manual – 21 days).
Karolina Edwards-Smajda (pictured), Auto Trader's director of commercial products, said: "It's extremely encouraging to see such a solid performance from AFVs in July, which is a great reflection of a wider softening of consumer resistance.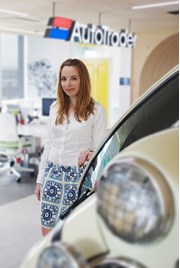 "There's clearly some way to go before mass adoption, but with sales of ultra-low and zero emission cars growing 25.3% during the second quarter of 2018, electric and hybrid cars are fast becoming a desirable addition to forecourts.
"For both the used and new markets, education will be key to driving adoption; to help inform their customers of the many benefits of AFVs, retailers can use the details in our recently launched electric hub.
"Again, the data shows us that despite its new car challenges, diesel maintains a dominant position within the second-hand market.
And it's no surprise, as their greater fuel efficiency makes them more appealing to budget conscious consumers, especially when it comes to larger, family sized cars.
The UK's Top 10 Fastest Selling Used Cars in July 2018
| | | | | |
| --- | --- | --- | --- | --- |
| Rank | Make/model | Description | Average days to sell | Average retail price |
| 1 | Renault Zoe | 2016 Renault Zoe Hatchback Electric Automatic | 18 | £6,497 |
| 2 | Peugeot 308 | 2013 Peugeot 308 Hatchback Diesel Manual | 18 | £5,606 |
| 3 | Volvo XC60 | 2015 Volvo XC60 Estate Diesel Manual | 19 | £18,407 |
| 4 | Mercedes-Benz A Class | 2016 Mercedes-Benz A Class Hatchback Petrol Manual | 19 | £16,923 |
| 5 | Kia Sorento | 2015 Kia Sorento SUV Diesel Manual | 20 | £18,488 |
| 6 | Audi S3 | 2015 Audi S3 Hatchback Petrol Manual | 20 | £22,856 |
| 7 | Mitsubishi Outlander | 2015 Mitsubishi Outlander MPV Diesel Automatic | 22 | £14,272 |
| 8 | Mitsubishi Outlander | 2015 Mitsubishi Outlander MPV Diesel Manual | 22 | £14,301 |
| 9 | Volkswagen Golf | 2016 Volkswagen Golf Estate Petrol Automatic | 22 | £22,338 |
| 10 | Hyundai i800 | 2017 Hyundai i800 MPV Diesel Manual | 22 | £16,585 |