Cazana director of valuations Rupert Pontin has claimed that its data suggests there is 'no evidence' to support suggestions of a significant decline in used car values in recent months.
Pontin conceded that there is no doubt that the used car market is under pressure, with concerns over supply and subsequently prices for certain cars, but added that it would be wrong to say that the April used car market was "in trouble".
Pontin said: "There is no evidence of retail pricing falling away significantly as far as our data indicates. Naturally there will be individual models that may experience a fall in pricing but this is usually due to fluctuations in supply."
Cazana's data shows that sub 12-month-old cars increased in price by 1ppt in April over the previous month and by 3ppts over the last year.
Overall, Cazana's data appears to suggest a negligible value decline, as the following graph detailing fluctuations over the past 12 months indicates: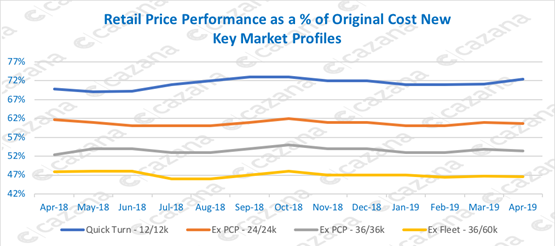 Pontin said: "There has been a significant level of discussion as to the state of the used car market in recent weeks and a warning of significant drops in used car values.
"As reported in our monthly update in early May it seems to be the case that the consumer is uncomfortable about making any significant financial commitments at the moment. This is evident from the consumer confidence data and also from sales figures in the retail sector as a whole.
"However, using retail driven insight it is clear that April's retail used car prices market wide have not dropped in the way that has been reported by some valuation providers."