The volatility of used car values "started to ease" with a 2.2% average rise to £9,463 in June, according to the monthly BCA Pulse report.
Dealer part-exchange values lifted by nearly 1% and nearly-new values climbed by 7.9% compared to May to generate the £201 uplift with the help of a richer mix of product entering the market, according to the remarketing specialist's data.
Stuart Pearson, chief operating officer for BCA UK Remarketing, said: "The market volatility seen in previous months started to ease as the month of June progressed and created a feeling that more typical seasonal trading was starting to resume."
He added: "It's been a challenging period for the market, as values have shifted at a significant rate over recent months which has created uncertainty. We've been working closely with our vendors to keep them informed of trading conditions and our unique real-time BCA Valuations pricing intelligence has helped to accurately value stock to sell first time."
"While many buyers have continued to focus on the best retail-ready stock that can be turned quickly, everything does have a price. Sellers that have used our intelligence tools to provide accurate condition-based valuations and invested in vehicle preparation have kept their stock churning."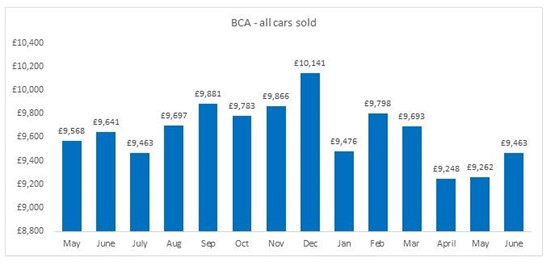 BCA saw the value of fleet and lease values average £11,372 at its auction sites last month – up by just £2 month-on-month but up by £174 (1.6%) compared to a year ago.
The retained value against original MRP (Manufacturers Retail Price) was down by over two percentage points when compared to 2018, largely as a result of both age and mileage at time of sale rising compared to a year ago.
Year-on-year table: Fleet & lease

Part-exchange average values rose for the second month running at BCA with a £44 improvement in June 2019 compared to May.
Year-on-year, values for part-exchange vehicles at BCA improved by £200, equivalent to a 4% uplift albeit the average age/mileage profile of vehicles in this sector remains largely similar to prior year.
Year-on-year table: Dealer Part-Exchange

Values for nearly-new vehicles at BCA rose to their highest point this year, climbing by £1,722 over the month to reach £23,481, a 7.9% increase compared to May 2019.
Model mix has a significant effect in this sector, with brand specific winners and losers, it said.
Year-on-year table: Nearly-New