The average price of a used car advertised via Auto Trader increased by 0.8% in May, despite ongoing reports of declining values.
Auto Trader has reported in its monthly Retail Price Index that, despite slipping to its lowest rate of growth since December 2016, the market had shown resilience "despite Brexit and economic uncertainty".
The average sticker price of a car advertised on the online classified website rose to £12,775 last month.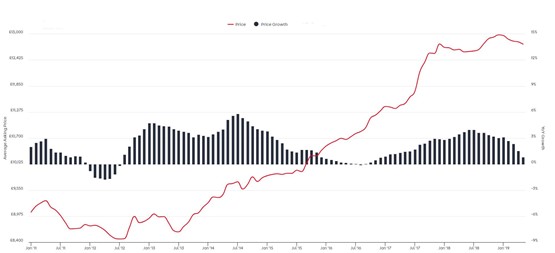 News of the climb in values came on the same day that Cap HPI reported that average used values had fallen by 2% in June – at the three-year, 60,000-mile point – following declines of 2.3% in April and 3.1% in May.
Karolina Edwards-Smajda, Auto Trader's director of commercial products, said: "There has been much rhetoric around the strength of the used car market in recent weeks, namely that prices have plummeted however, Auto Trader data tells a different story.
"Prices are still growing, it's just that the rate of growth is slower than we're accustomed to and that we've seen in recent months."
Despite Edwards-Smajda's assertions, Auto Trader said that, looking at circa three-year-old stock with around 60,000 miles on the clock, it had been clear the seasonal trend has an impact annually, driven by the March registration plate change.
Month-on-month impact on price is down 3.56% which is less severe than we saw in 2018, 2017, 2012 and 2011.
Edwards-Smajda continues: "There is a clear trend every year following September and March plate change, resulting in an increase in three-year-old, 60k vehicles.
"The used car market has an influx of stock, often as a result of consumers trading in their car for a new one.
"Following the March plate change, the volume of three-year-old cars reaches its peak between March and June.
"This saturates the market and prices become more competitive – which is what we observed happening in May. This is part of the annual cycle, and it's a trend we see every year."
The latest Auto Trader Retail Price Index showed that diesel cars had the slowest growth rate in May, at 0.4%, with an average sticker price of £14,163, while petrol cars have seen price growth of 1%, with an average retail price of £11,174.
Meanwhile, alternative fuelled vehicles (AFVs) delivered 4.8% growth and an average sticker price of £21,663 nearly double that of its internal combustion engine (ICE) counterparts.
Auto Trader said that electric vehicles (EVs) had been the stand-out performer. Price growth is still in double digits at 11.8%, and they continue to rise in average price, £23,771 - the highest on record.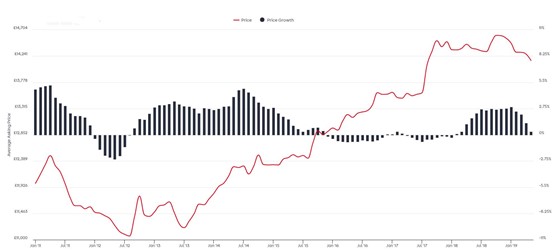 The number of people searching for AFVs on Auto Trader has increased to an all-time high, meanwhile, with 8% of all fuel related searches on Auto Trader for the fuel type this month.
Petrol has lost the share gained by AFVs, accounting for 51% of all fuel related searches. Searches for diesel remains flat at 41%.