The UK's used car market has started to show signs of a slow down as volumes dropped by 2.8% in Q2 this year to 2.03 million and numbers have fallen by 1.7% YTD to 4.05m.
The latest quarterly report from the Society of Manufacturers and Motor Traders (SMMT) said that used car sales have fallen in every month this year apart from March, when they increased by 1.9%.
In Q2, drops in the North West, Scotland and the South East drove the decline.
Other regions did record increases in demand.
Cities topping the list for used car sales were London, Birmingham and Sheffield.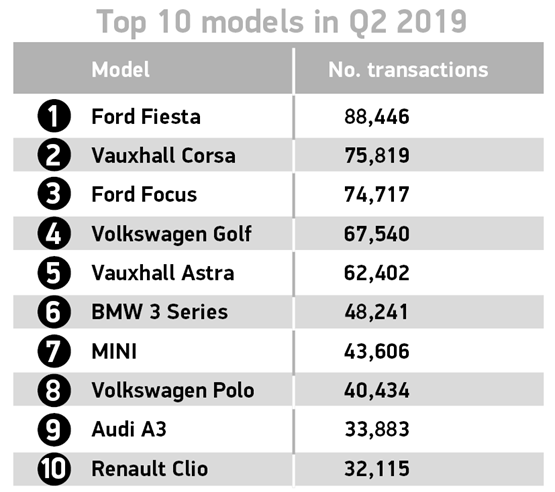 Demand for petrol and diesel models declined in the second quarter, down by -3.7% and -2.5% respectively.
However, combined sales of the fuel types still made up 98.3% of the market.
Meanwhile demand for hybrid, plug-in hybrid and pure electric cars continued to grow, up 24.8%, with 33,492 models changing hands.
Of these alternatively fuelled vehicles (AFVs), pure electrics experienced the largest growth – up 32.8%, with hybrids also rising 25% to 29,321 units, but this growth was unable to offset losses elsewhere.
"The declines were anticipated"
Sue Robinson, National Franchised Dealers Association (NFDA) director, said the declines were anticipated and the market remains at high levels.
She said: "Franchised retailers continue to see strong interest in used cars, however, a large proportion of motorists are keeping their current vehicles partly due to the uncertainty caused by new emission policies and the transition to low emission vehicles.
"The recent declines in new car sales, combined with fewer companies defleeting, have had a detrimental effect on the availability of part exchange vehicles."
Robinson said stock availability is expected to improve as more two and three year old second-hand cars return to dealerships.
She added: "It is important to note that we are comparing this year's results with an extremely robust market in 2018. Used and nearly new cars continue to be an important business area for franchised retailers."
Ian Plummer, Auto Trader commercial director, said consumers have faced significant turbulence over the last few months, including the Conservative leadership race, a new prime minister and the increased likelihood of a no-deal Brexit.
Plummer said: "It should come as no surprise therefore, that despite its resilience, the same consumer uncertainty that is so profoundly affecting new car sales should impact the used car market too.
"We can see further evidence of this reflected on the average second-hand retail prices."
According to the latest findings from the Auto Trader Retail Price Index, which analyses over half a million industry data points, the rate of growth in used prices has stalled: for the first time in three years, the rate of price growth is in actual decline, slowing to just -0.7% in July.
Plummer said that despite a disappointing picture, the huge growth in alternatively fuelled vehicles offers a bright spot.
While it's still from a small base, he said the growing appetite for low emission cars is helping to offset the fall in petrol and diesel registrations.
He said: "It's having a similar impact in terms of used prices too, with the average price tag of a pure EV surging 9.5% last month.
"If further evidence was needed of the opportunity AFVs represent for the industry, the 2015 Renault Zoe is currently the UK's fastest selling used car, taking an average of just 23 days, closely followed by the 2018 Kia Niro hybrid at 24 days.
"It clearly highlights the desperate need for a clearer and more compelling narrative from the Government to encourage consumers to make a switch from fossil to electric."