More than half of used car retailers reported that they had achieved the same or improved margins during August, according to a Cox Automotive Dealer Sentiment Survey.
The monthly survey, conducted by Modix, found that although 48% of respondents experienced a decline in their margins during the month, 52% said they were the same or better, despite what Philip Nothard, Cox's customer insight and strategy director, described as an "unpredictable market".
The automotive retail market continued to face a number of challenges in August, but dealer sentiment from the latest Modix survey suggested a largely stable market, according to the survey's findings.
A total of 65% of dealers surveyed reported that consumer demand was the same or better than August 2018, and while 20% reported that physical footfall had improved, 39% saw an increase in online activity.
Nothard said: "The introduction of WLTP, RDE and the CAFE legislation due in 2020 are all having an impact on the new car market. In recent months we've seen more clarification around company car taxation, but long lead times for the most popular new car models mean that fleet registrations are still fairly low.
"In the used market, longer new car lead times drove transactions in August as some customers opted for a nearly new option rather than wait, and this trend is likely to continue in September."
Looking ahead, the Modix survey revealed that 59% of dealers expect economic conditions to remain the same or improve over the months ahead.
A fast-moving political situation means that dealers' attitudes may have already changed, however.
Nothard said: "We're looking at an unpredictable market with a lot of forces at play, but the retailers I've spoken to feel that they can't let uncertainty stop them from getting on with the job at hand.
"The survey results suggest a mood of cautious optimism ahead of the September plate change, with tight cost control and maximising margins the key focus for many businesses."
Cox's used car pricing data
Delivering its monthly report on the value of the vehicles passing through its various physical and digital remarketing platforms, Cox revealed that August had delivered a decline in the average price of a used car sold at Manheim's auctions during August.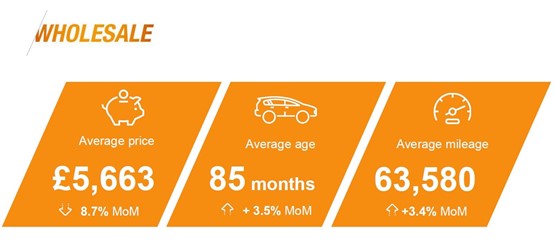 A "slight change in stock mix with a higher proportion of part-exchange vehicles, and an increase in average age and mileage MoM" was cited for the decline to £5,663.
Nothard claimed that average values were stable in August, adding that "the realignment of pricing guides that we've seen over the past two months stimulated demand in the wholesale market, generating strong conversion rates across the month".
Cox said that the change in stock mix came at an interesting time for the new car market, as the introduction of new legislation saw unseasonal levels of August registrations for the second year in a row.
Society of Motor Manufacturers and Traders (SMMT) new car registration figures for August showed a 1.6% YoY decline, but this represented a 21.1% increase when compared to August 2017, it said.
Elsewhere in the Cox group, Dealer Auction, Cox Automotive's digital wholesale marketplace, saw the average selling price hold steady at £4,459, up just £57 on the July figure.
Nothard added: "The continued success of Dealer Auction demonstrates a real appetite for digital wholesale, and in August the business reported that vendor numbers were up 9% YoY."
NextGear Capital, the wholesale stock funding business, reported a slight drop in average vehicle price, down 3% MoM, while the average number of days for a vehicle to remain on plan fell by one to 60.8.
Fuel type pricing trends
Manheim's data for August showed that diesel values delivered their biggest dip YoY, down 17.8% when compared to last August.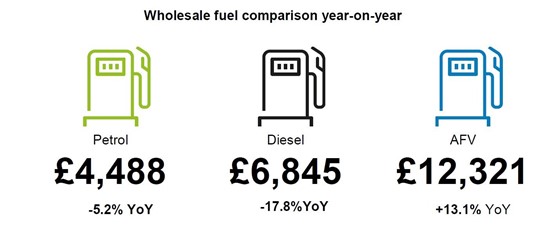 In contrast, the average AFV value has been up YoY every month for the last six months, a sign of dealer and consumer interest in the vehicles.
Earlier this month the National Association of Motor Auctions (NAMA) suggested that used electric vehicle (EV) sales and values could be boosted by consumers disappointed to discover long lead times for a new EV in September.
Nothard said: "Earlier this year we commented on the fact that low diesel sales in the new car market have started to impact volumes in the wholesale market."
"The proportion of one-to-three year old diesel vehicles at auction is falling, and this will naturally affect the average price.
"That said, a used diesel is still the best choice for many consumers, and good condition diesel vehicles continue to sell well at auction."