The average asking price of a used car advertised via Auto Trader rose by 2.76% during July but the online marketplace said that the rate of value growth had declined for the first time since August 2012.
The average used car value on Auto Trader rose from £12,763 to £13,115 last month but the online classified advertising specialist reported that the rate of price growth is now slowing, recording a decline of 0.7% in July – the first "negative growth" for almost three years.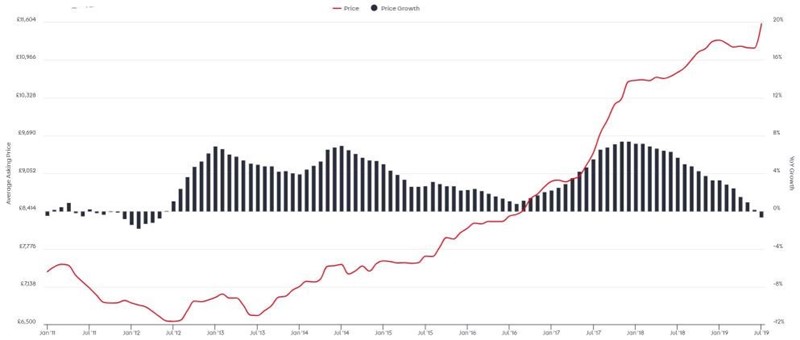 Auto Trader reported the trends as the Society of Motor Manufacturers and Traders (SMMT) reported that the UK's used car market had started to show signs of a slowdown, with volumes down by 2.8% to 2.03m in Q2.
Yesterday (August 14), in reporting the AM100 group's H1 financial results, Lookers chief operating officer Nigel McMinn said that a used car pricing relaignment had impacted his business.
Lookers saw its pre-tax profits decline by 39.7% to £24.9m (H1 2018: £41.3m) during the period to June 30, 2019, and McMinn said: "We were doing alright until Q2 when the used car pricing realignment, the biggest since 2002, hit the market.
"When you are carrying £250m of used car stock you cannot help but be affected by that."
Commenting on the pricing trends seen at Auto Trader its director of commercial products, Karolina Edwards-Smadja, said: "The price growth of used cars has been on a downward trajectory since the start of the year, this is due to lower consumer confidence and economic uncertainty, especially as we are approaching what could be a no-deal Brexit.
"It is reassuring, however, that it seems to be a certain age bracket of car which is bringing price growth down rather than a blanket decline across all vehicles.
"Diesel cars have been impacted as a knock-on effect of diesel-gate and the emissions legislation which has led to confusion among consumers."
Newer cars, aged under five years, and internal combustion engines (ICE) have all been affected by the "easing down", Auto Trader said in its monthly Retail Price Index report.
Cars aged five years and more achieved price growth of 1.2% and an average price of £6,658 during July, while vehicles aged up to five years continue the same negative trend as last month showing a -1.2% price growth.
The decline is more notable in cars in the three- to five-year-old category, as price growth declined by 2.1%. This is likely caused by the record new car sales in 2016 and the consequence of an influx of stock in this age bracket entering the market, as consumers renewed finance deals and returned fleet cars.
"We're experiencing overheating in the market for cars aged three to five years; there's a great deal of supply but not as much demand for cars in this age bracket, so prices adjust to make them more appealing," said Edwards-Smadja.
"And although consumer confidence is low, there is still appetite to buy cars which we can see based on the numbers of searches conducted on Auto Trader."
An average sticker price of £11,579 for a petrol car during July saw the fuel type record its lowest rate of price growth since May 2012 – down by 0.6% – while an average retail price of £14,394 for a diesel car marked a 1.3% decline in the rate of growth.
It's a more positive story for alternatively fuelled vehicles (AFVs), however. The rate of price growth for hybrid, plug-in hybrid (PHEV) and electric vehicles (EVs) accelerated from 4.9% in June, to 6.2% last month, Auto Trader reported.
The average AFV sticker price is now £22,358.
Meanwhile the rate of price growth for electric vehicles (EVs) increased at an even more impressive 9.5% year-on-year – with EV sticker prices more than double that of their ICE counterparts at £26,802.
The percentage split of searches by fuel type on Auto Trader remained the same during July.
Petrol is still the most popular at 51%, while diesels are 41% and AFVs are 8%.
The most searched for used car in July was the VW Golf, followed by BMW 3-Series, Mercedes C-Class, BMW 1-Series and Ford Fiesta, it said.