Car supermarkets grew their stock of used vehicles by an average of 11% during September in an effort to capture car buyers looking to buy in the key number plate change month, Motors.co.uk has reported.
Data compiled by the car search website found that used car supermarkets averaged 723 cars in stock, compared with 643 last year as they attempted to counter competition from the new 69-plate on sale in franchised dealerships.
Just as the National Association of Motor Auctions (NAMA) suggested that electric vehicle (EV) customers might have their heads turned by used cars amid a shortage of supply and long lead times during September, Motors.co.uk identified that used car retailers had primed their forecourts to cash-in on less patient car buyers last month.
But in a competitive market hit by failing consumer confidence, the stock increase resulted in cars taking on average eight days longer to sell – at 34 days – Motors.co.uk found.
Dermot Kelleher, Motors.co.uk's head of marketing and business intelligence, said: "Stock levels at car supermarkets bounced back in September, having seen year-on-year volumes drop in the two previous months, as retailers appeared to position themselves to compete for the attention of in-market buyers during the plate-change month.
"What we saw in September could be a reflection of the supermarkets taking advantage of greater price stability in the wholesale market after a succession of book drops, so they will be trading these cars more profitably."
Earlier this month Cox Automotive reported that unseasonably low September used car stock levels drove "a super-heated wholesale market", however, indicating an increased competition for the right stock.
Motors.co.uk said that stocking levels across the sector were in-line with last year averaging 53 units per site, while average days in stock rose from 36 to 38 days.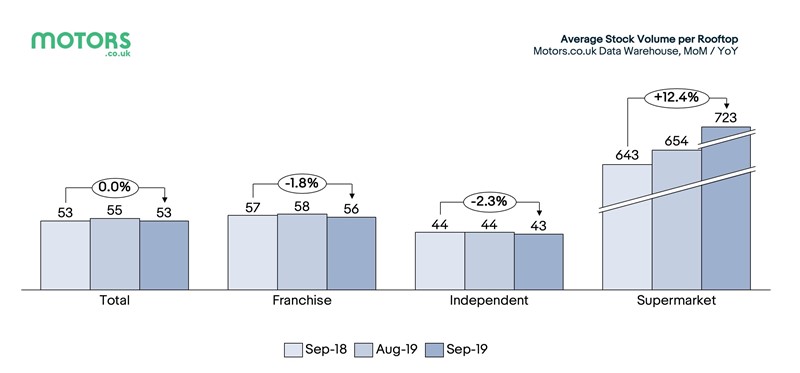 Petrol continued to be the fuel of choice in the used car sector but interest in diesel remained strong, it said, despite demand continuing to fall in the new car sector.
Diesel accounted for 46% of online searches across Motors.co.uk, down marginally from 47% last September and accounted for 47% of dealer stock, down from 48%.
Petrol only made slight gains accounting for 52% of online searches, up from 51% last September, and made-up 51% of dealer stock, up from 50%.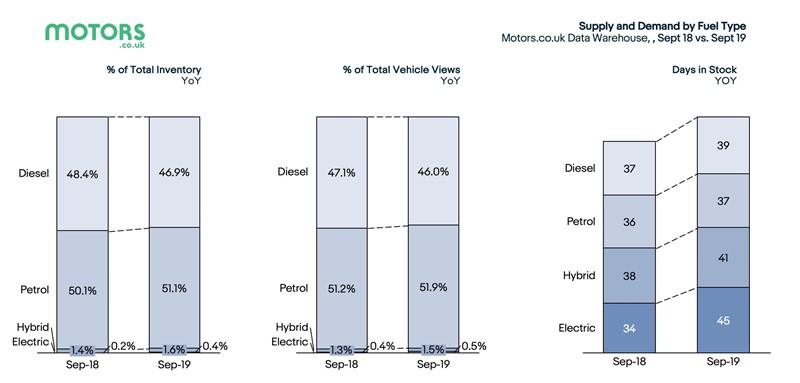 Interest in used hybrids and electric vehicles remained low over the course of the month.
Hybrid views accounted for just 1.5% of views across Motors.co.uk, compared with 1.2% last year, while EVs attracted only 0.5%, up from 0.4%.
Kelleher said: "In contrast to what's happening in new car sales, the level of interest from buyers for used diesels remains mostly unchanged year-on-year.
"Dealers realise this and are stocking accordingly with good quality cars, especially those with Euro 6 engines, generating plenty of interest."
AM reported last month how Alex Wright, managing director of Shoreham Vehicle Auctions (SVS) believes that an influx of cleaner Euro-6 compliant engines into the UK's used car market could be about to spark a diesel resurgence.
According to Motors.co.uk's market analysis the three fastest selling used cars in September were all compact SUVs.
The fastest seller was the Toyota C-HR, averaging just 27 days in stock, followed by Volvo's award-winning XC40, making its top 10 debut in joint second place with the Mercedes-Benz GLA Class, averaging 28 days to sell.