Unseasonably low September used car stock levels drove "a super-heated wholesale market", according to the latest Cox Automotive Market Tracker report.
The remarketing specialist saw its Manheim business generate first-time sales on 87% of cars passing through its lanes during the key number plate change month as reduced levels of available stock resulted in a many achieving or exceeding the guide price.
Philip Nothard, Cox Automotive's customer insight and strategy director, said: "A number of factors have combined to reduce the level of stock in the market throughout August and September.
"Low new-car sales, long lead-times, and scrappage schemes from some manufacturers have reduced part-exchange volumes, and dealers are choosing to retail those that they take in directly.
"This, combined with the usual seasonal reduction in the number of de-fleet vehicles at auction, had led to a super-heated wholesale market in September."
Manheim's market data from last month showed that the average age and mileage of vehicles offered for sale increased slightly month-on-month (up 1.3%), while average price held steady at £5,679 (up 0.3%).
NextGear Capital, Cox's wholesale stock funding business, also saw average age and mileage hold relatively steady, but reported an average price increase of 6% month-on-month to £7,761.80.

Manheim saw the value of hybrid powered vehicles decline most in its year-on-year analysis of the various fuel types on sale as electric vehicles (EV) were the only drivetrain type to register an increase.
It said in the Market Tracker report that this indicated an uplift in demand for electric vehicles, but added that the relatively low volume of electric vehicles when compared to other fuel types meant that higher percentage swings are more likely.

Car retailers' stock acquisition challenges showed signs of adding to margin pressures during September in the results of Modix's monthly dealer sentiment survey.
In total, 62% of dealer respondents to the survey said that margins were down year-on-year.
However, dealers were upbeat about used car sales, with 80% confirming that overage stock was the same or lower than last year, while 86% reported that days in stock had reduced or stayed the same.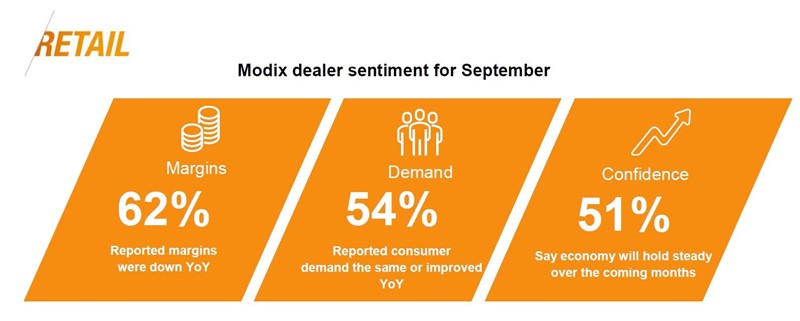 Nothard said: "September was a difficult month for the retail sector as dealers looked to the used car market to off-set challenges in new."
"Overall, the Modix survey revealed a very mixed picture on demand, with just under half of dealers reporting that demand had fallen year-on-year, while 39% said it had stayed the same, and 15% saw an improvement."
Looking ahead, Nothard confirmed that wholesale volume pressures are expected to continue into October. He said: "A lot of influences have come together to create a perfect storm in the new car market.
"Uncertainty around Brexit has created nervousness among OEMs and fleets, while the impending introduction of CAFE targets will see manufacturers hold back some of their lower emission vehicles."
"This naturally has a knock-on effect on used vehicle supply, but retailers are reporting reasonable levels of demand for the right cars. With stock in short supply, dealers need to use all the data available to them to make smart buying decisions that will deliver the highest return on investment."