An influx of SUVs and premium vehicles into the used car sector has helped to mitigate a 3.5% decline in values year-on-year, according to Auto Trader's monthly Retail Price Index.
The online vehicle marketing and data specialist reported that the average price of a used car had reached £13,322 in November, up from £12,567 during the same period in 2018.
But it said that the level of stock mix impacting last month's average prices was at its highest since April 2018 (7.4%), at 6.9%, masking a 3.5% decline in values across the sector.
Auto Trader said that "a wave of more expensive vehicles entering the market", including SUVS and alternatively fuelled vehicles (AFVs), were pushing average prices up.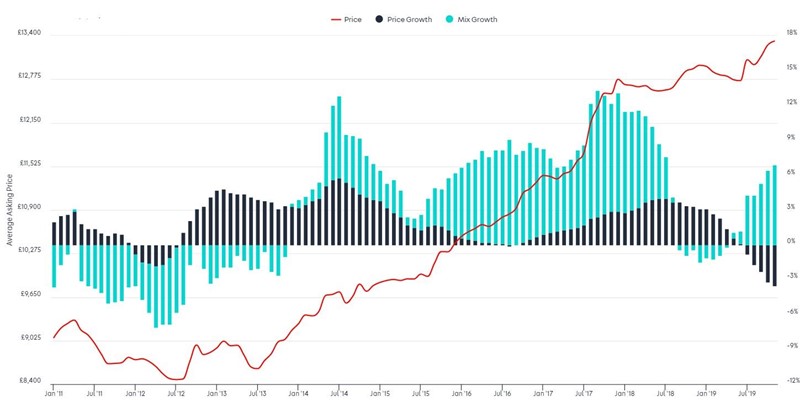 Demand for AFVs is a clear trend identified by Auto Trader in recent weeks.
It reported that online searches for electric vehicles (EVs) on Auto Trader had increased 73% in volume since November 2018, with the Renault Zoe identified as 2019's fastest selling used car earlier this month – the first EV to top the list.
However, despite their popularity, EVs still represent just 0.5% of all vehicles advertised on Auto Trader, compared to 52% petrol and 45% diesel.
As a result, the average sticker price of used EVs continue to grow at a far higher rate than their ICE counterparts.
The average value of an EV listed on Auto Trader during November was £24,820, equating to a significant like-for-like increase of 16.6%.
More broadly, AFV prices (including hybrid and plug-in hybrids) averaged £22,115 in November – a 4.9% year-on-year increase.
Auto Trader said that AFVs were the fastest selling fuel type last month, taking an average of just 52 days to leave UK forecourts, versus 55 for petrol and 56 for diesel.
Used petrol prices contracted 4.7% (£11,967) like-for-like in November, Auto Trader said, with vehicles aged up to one year are largely responsible for driving down values – declining at a like-for-like rate of 8.9%.
Auto Trader reported that there are 64,508 petrol vehicles of this age currently advertised on its platform – 77% more than diesel (36,453) and a huge 4975% more than EVs (1,271).
The average value of a used diesel vehicle stood at £14,374 last month, representing a decline of 0.2% like-for-like.
Ian Plummer, Auto Trader's commercial director, said: "The sustained anti-diesel rhetoric we've seen over the last few years has had a profound effect on the overbalance of used petrol vehicles in the market, which is impacting both prices and sales.
"That same negative rhetoric, which forced retailers to offer enticing deals on diesels, has helped drive a resurgence in their popularity, which isn't only reflected in the latest quarterly sales figures, but in their average sticker price too.
"These same factors are having a profound effect on low emission vehicles.
"Whether new car registrations, used car sales, search or speed of sale, every metric indicates a growing appetite for electric.
"However, with EVs representing such a small share of the current market and a question mark hanging over the impact Brexit will have on the supply of second generation EVs into the UK, it's highly unlikely average prices will be dropping any time soon."
Eslewhere on AM today (December 23), market analyst David Francis argues that 2020 could be the year that EVs "go mainsteam".
Auto Trader said that consumer appetite for cars seems to have been maintained despite the recent political and economic uncertainty.
Searches across Auto Trader are up 10% year-on-year.
Petrol cars were the most popular search criteria in November, accounting for half (50%) of all searches by fuel type, up from 48% the previous month.
Searches for diesel cars accounted for 42% (down from 43% in October) while searches for AFVs remains the same at 8%.